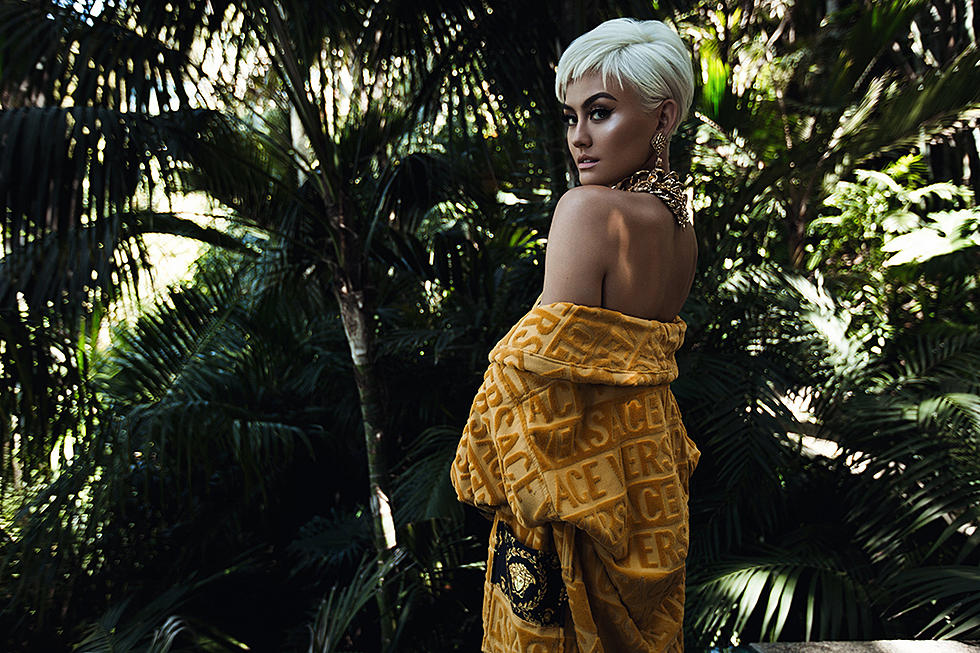 Agnez Mo Shows the Haters Her International Star Quality on 'X'
Agnez Mo
Agnez Mo may not be a household name in America, but in her native Indonesia, she's one of the country's biggest pop stars.
Releasing her first single when she was just six years old, the Jakarta-born singer's career has spanned more than two decades, a feat that many of today's rising artists can only hope to achieve. She also has 17.4 million followers on Twitter and 13.6 million Instagram devotees... and that's not even taking into account the multitude of stan accounts and fan sites she has.
Now, Mo splits her time between Indonesia, where she's a judge on the country's version of The Voice, and the U.S., particularly in Los Angeles, Miami and New York.
Below, the rising star discusses her debut international album, X (pronounced "ten" after the Roman numeral), and showing all the haters that she can make it anywhere.
How did you get into music in the first place?
It started out as a hobby. My parents never said, "Oh, if you really like to sing, then you have to sing." They never put any pressure like that on me, which was why I never really lost my childhood like what other childhood stars experienced...I released my first single when I was six years old. I was doing this literally my whole entire life.
I got my first award when I was nine years old because I was hosting as well. I was hosting this children's show, which was like the Indonesian version of The Mickey Mouse Club. Then when I was 14, I started acting and received some Best Actress awards. I released my young adult album at that age.
Where does your drive come from?
Well, I have fun doing it. And I always put my focus into the right thing. It's never about just putting myself in front of the camera.
When I was 18 or 19, I was told that I was the most awarded person in Asia. At that time, I had received 119 awards, and I didn't even realize that. My fans have been there and appreciate me because of the work I do, not just because of the awards.
Then one year, I won awards in both acting and music. So the press asked me what else I wanted to do. I was a little confused by that because I was very young. It wasn't like I was 50 years old, I was 19. And I said, "I think I want to go international. I think I want to share my passion. I want to share what I love with the world. I think I want to win my first Grammy." I didn't realize how [those statements] could turn into a bad controversy because I thought that's what you do. You have to set the bar high. You have to push yourself to be a better person and better artist every day. So for me, it was a version of me saying, "I want to be better."
But that's not how everyone took it, right?
My fans were rooting for me, but, of course, there were a lot of haters, too. The media was saying "Oh, Agnez, what are you talking about? You're just an Indonesian. You're not going to make it to Hollywood. You're ridiculous." I'm a sensitive person, but I'm also a strong woman because I knew how to twist that negative energy and turn it into positivity at a young age. I talked to my brother, who took over managing from my mom, and said," You know what? I think I want to do this."
It wasn't out of anger. It was just an ignorant comment. Just because you're an Indonesian, you can't make it? I took it personally, not as Agnez Mo, but as an Indonesian, because that guy who asked the question was an Indonesian. It became so much bigger than me; I had to make this happen now because I had to show them that [these comments] can't happen... It was so important to show my energy at that time to my fans.
When did you finally make the move to the America?
In 2010, Dick Clark Productions called my management in Indonesia and asked, "Do you want Agnez to be a co-host on the red carpet for the American Music Awards?" And in 2011, Timbaland's management reached out to me and wanted me to go to Miami to work with him. So I flew out to Miami, and we were supposed to do one song and vibe it out with the team. A&R came back to us and said, I don't know what you did, but whatever you did in that booth, you must have done something right. Timbaland told me he wants to producer [your] whole album."
It didn't hit me until I got to the hotel. Then Timbaland and Missy Elliott tweeted me, and then all of Indonesia realized that I was making this happen...Maybe it looks like a short journey because people only pay attention to them for short time, but it's never been short. When I looked at my journey, yes, I released my first single when I was six and won my first award when I was nine, but to get to where I am now, it's been a freakin' long journey. And it makes me appreciate it more.
Even though you've been in the music industry since childhood, you're considered a new artist in the U.S. What are your thoughts on that?
Don't get me wrong: I always have a finish line. But what people sometimes get wrong, I never enjoy that [end]. I'm enjoying the learning process. I still have this energy after doing it for so long because it was never about running towards the finish line because I'm enjoying every step of the progress. When I'm here [in the U.S.], it wasn't a reset for me. It's just another learning process for me, and I'm happy. I have to say that not a lot of people can say that they're happy where they are. Some people are so focused on "I'm not this." But when something is bringing you down, stop thinking about that. Appreciate what you have in the present. That's how I do it.
Which song on X is the most memorable for you?
"Damn I Love You." It wasn't supposed to be there. We were in the listening session and happened to have the studio booked for the whole day, but on that day, I wasn't supposed to record. I wasn't supposed to write. So I just happened to be there with my other producer because we finished the whole album the day before. My manager, Johnny Wright, was there too, and I wanted to know their thoughts on the album because the one thing I love about Johnny is that he lets artists find their own sounds.
We listened to the whole album, and then they were like, "Oh, you have a dope album. Your album's done!" The meeting was three or four hours, and one of my producers did a little something on the piano, and I told him, "Jim, if we're going to do this, I don't want to do any heartbreak songs. I want it to be a cool chill vibe, and it has to give you that positive energy whenever people play it."
He started to play, and then we started writing out the lyrics. Then after that, we knew we had to record it. The lyrics aren't even that deep; it's just that I was tired of listening to another breakup song. It happened to be one of the strongest songs on the album.
Looking back on your career, do you feel like you've reached your success? Or do you still have a long way to go?
I have to say I'm a little bit of everything. I'm content, but at the same time, I want to push myself into becoming a better person. But the bigger picture, of course, I want to win my first Grammy. I want to do a collaboration with JT. I want to have DJ Khaled on my song. But in order for me to have that positive energy to be poured into my work, I have to make sure I appreciate the small things.
What's next?
I would love to perform [in the U.S.] because I want to share my energy on stage. My team wants to start the conversation about that in January, and we didn't want to do anything in December because there are lots of holidays, and I wanted to be with my family. In January, we'll get that conversation going.
Meet Pop's New Class of 2017: