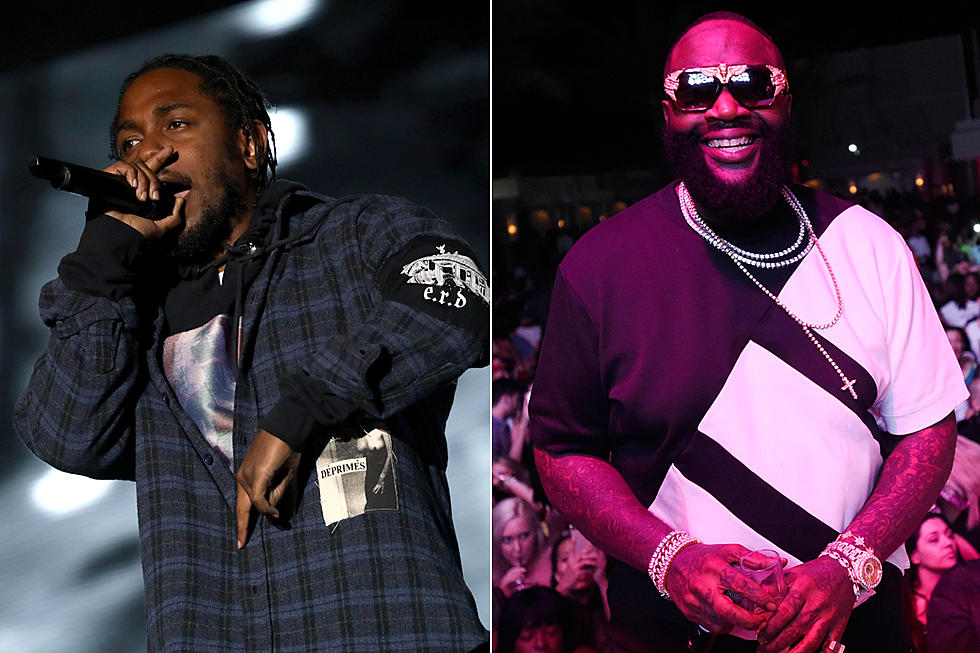 Best Songs of the Week Featuring Kendrick Lamar, Rick Ross and More
Rick Kern / David Becker, Getty Images (2)
February's here, and the music releases are already ramping up, including plenty of collaborations. The Weeknd partners up with Kendrick Lamar, and Rick Ross makes it a Florida thing, connecting with Kodak Black and T Pain for his latest track. It's all about teaming up in this latest edition of XXL's best songs of the week.
In a meeting of two superstars, The Weeknd and Kendrick Lamar collaborate on the newest single from the Black Panther soundtrack. "Pray for Me" is littered with heavy drums, with The Weeknd bringing his unmistakable voice and Kendrick with his typical intensity. "Who need a hero?/You need a hero, look in the mirror, there go your hero," Kendrick urges. "Who on the front lines at Ground Zero?/My heart don't skip a beat, even when hard times bumps the needle."
Rick Ross has been a little quiet musically, but he may have been gearing up to make his big splash. His new song "Florida Boy" is trip back home for The Boss, as he recruits both Broward County's Kodak Black and Tallahassee's T Pain for it. Ross takes over early, sharing just how tough it is in his city. "If I got the keys, then it's a car I'ma keep/ When I line her up they say I remind 'em of Meech," he raps. "Shootouts in Miami, can't spend no time on the beach/Do or die, get a plug, I got a hundred ki."
Kodak is last, and he torches the song, spitting, "But it's still a struggle so you can't get too comfortable/'Cause niggas see that money coming and they try to come for you/But they don't know that this famous shit mean nothin' to you/Still keep a gun or two and I still dump at you."
G-Perico is about to head out onto the road, and what better way to warm up than freestyling over a classic beat or two? The South Central, L.A. native spit over Tamia's classic "So Into You," the latest to come in his G-Styles series. However, he isn't talking about love here. "Fuck the lame shit,1-10 lane switch/Pour out a little Yak, his brother brains missin'," he raps, sharing a glimpse into some of the things he's seen. "Oh you losin'? I ain't sorry to hear it/If it ain't one of my niggas, then it ain't none of my business."
A$ton Matthews recently revealed that he got to collab with Prodigy of Mobb Deep before he passed away, and the song is now public. The track, "1 Minute to Pray," is scathing, with A$ton rapping like he knows he's in the presence of a legend, and Prodigy spitting without any rust in sight. Aston's first four lines are raw; "It get brazy in the turf doe/Chunky ass .40 turn them track feet to turf toe/Lip, get a fistful, brains, get a clip full/You know how this shit go," he delivers.
Prodigy isn't playing either, with lyrics like, "Thought he was stone cold block made of iron/This nigga just a soft, warm, piece of shit, lyin/I'm gonna take him out back and get started/A kidney four grand, a spleen is 12 hundred." RIP P!
Gunna has been building momentum for a few years now, and he just freed his latest project, Drip Season 3, today. Early on, he collaborates with Lil Uzi Vert and Young Jordan for the song "At the Hotel." Gunna raps about what's really going on with him nowadays; "Niggas hoes and they startin' to reveal (niggas hoes)/Damn I hope he don't tell/He solid, I'm paying his bail/Ain't no fake shit, we keepin' it real," he rhymes. An inspired Uzi also does his thing, rattling off, "The Lambo, I need a seatbelt/Two-hundred my dash, you could tell/You racin' but chasin' a tail/ I drop my top like it's Montel."
Tee Grizzley is already picking up speed this year, and his new track "Colors" is a bruising peek into what he has on the way. The piano-driven song features Tee going back to the street, and rapping about things have been since he blew up. "Trappin', I'm still into that, address, I can send you that/So if my label drop me, I can still look like I rap," he raps, with no remorse. "Know a couple of niggas livin' like they got platinum plaques/All they doing is catchin' bags, sendin' out and sittin' back."
Listen to the best songs of the week below.
Check Out the 2018 Hip-Hop Music Festivals You Need to See