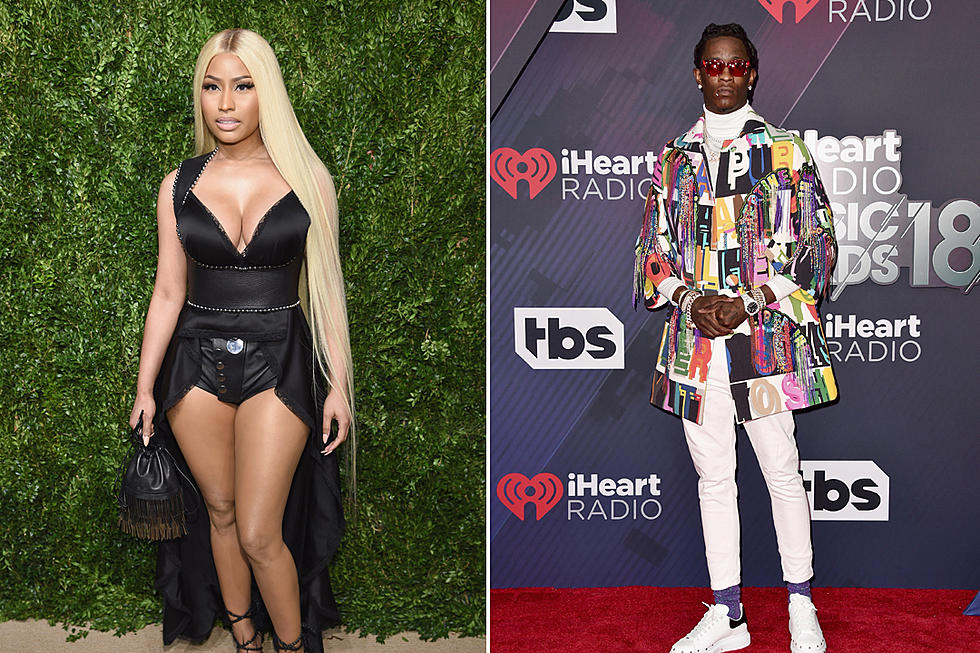 Best Songs of the Week Featuring Nicki Minaj, Young Thug and More
Dimitrios Kambouris/Alberto E. Rodriguez, Getty Images
Things are starting to heat up both weather-wise and in the world of hip-hop. This was a fun week, featuring the return of one of the biggest names in rap, some new music from a rapper on hiatus and bangers that will lead you right into the summer. Nicki Minaj jumps right back in with her latest, "Barbie Tingz," and Young Thug enlists Lil Uzi Vert for "Up." Get the scoop on these songs and a few more in the latest edition of XXL's best songs of the week.
Nicki Minaj's new music came out of nowhere, only being teased since the middle of this week. Nonetheless, she made a splash, dropping two tracks: "Chun-Li" and "Barbie Tingz." The latter, which features production that uses a classic hip-hop breakbeat, Nicki comes out swinging. "It's time to make hits and it's time to diss/How you still dissin', still can't find some hits?" she spits, making it clear that she's back. It's going to be a huge summer for Nicki, and who knows what else she has in store.
Young Thug said he wasn't releasing any music this year as a show of solidarity for his deaf brother, and also planned to change his name to Sex. Now, he's back with a new EP titled Hear No Evil, and he's still Young Thug. One of the best songs on the short project is "Up," featuring Lil Uzi Vert. Over a pounding beat, the two almost equally out-there artists share bars about flexing and having far too many women. Thug sounds as good as ever, and Uzi's verse is great.
The enigmatic Peewee Longway simply wants to rap, and that's just what he does. His new mixtape, Spaghetti Factory, hit the streets today, which is a collaboration with producer Spaghetti Jay. On the track "Break It Down," Peewee goes crazy, switching between a multitude of flows. Jay's production here is dark, and Peewee brings it: "Cook that good crack at the Best Western/I got two fo-fo's like the wild western/Back to the pot when it's time to stretch it."
Smokepurpp and Murda Beatz's much-anticipated collab project, Bless Yo Trap, went live today, and the most recent single is "Pray" with the surging A$AP Ferg on hook duty. The beat sounds almost like trapped-out church bells and Smokepurpp's verses are raw, especially the first one. He raps, "I'm in the coupe, I'm with a bitch, ceiling got stars/Nigga want beef, he could get smoke, like a cigar/I'm on TV, I'm on the boards, bitch, I'm a star," selling each line.
The Rae Sremmurd bros have yet another a new single; this time it's a Swae Lee song featuring a verse from Slim Jxmmi. "Guatemala" with its Afrobeat-adjacent bounce works for Swae and Jxmmi, and the duo might have a hit on their hands. Swae innocently tries to woo a love interest: "Baby, when you laughin', is it 'cause you feel an excellent vibe?/That was just a fraction of the good love I provide."
Harlem legend Jim Jones just dropped his new album, Wasted Talent, today, and hosts a DipSet reunion of sorts on the project. The song "Diplomatic Immunity" features Cam'ron, with production by The Heatmakerz, who flip the Drake song of the same name, bringing things full circle. The track brings back memories of the old days, when Cam had the whole city wearing pink and every NYC teen wanted to be down with the 'Set.
Check out the best songs of the week below.
See New Music Releases for April 2018