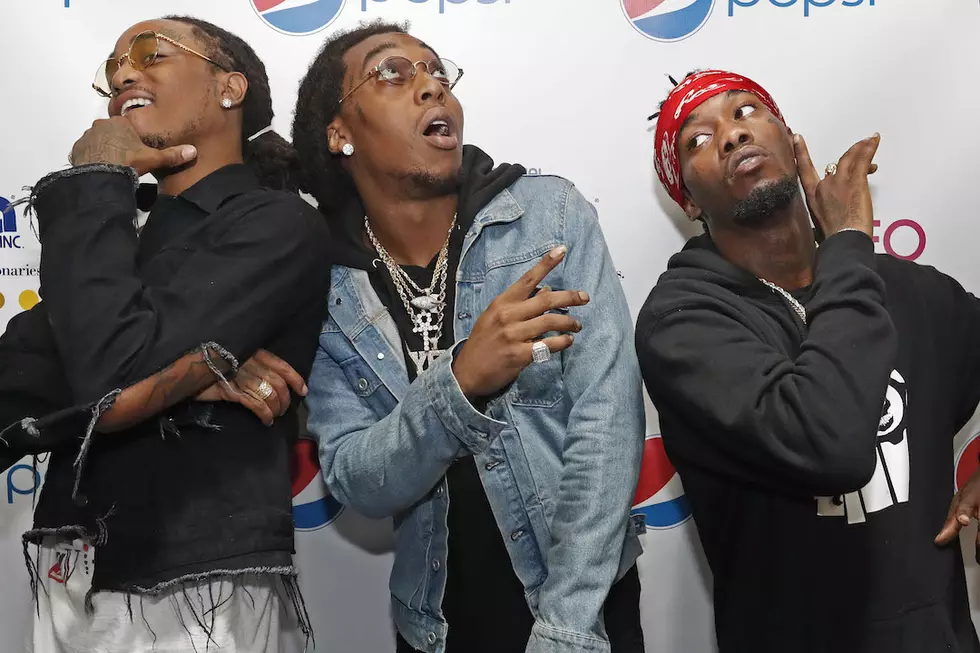 Migos Lands Their First No. 1 on the Hot 100 With 'Bad and Boujee'
Tyler Kaufman, Getty Images
It looks like Donald Glover isn't the only one going thanking the Migos for making their latest banger, "Bad And Boujee."
The actor recently won himself two Golden Globes for Best Actor and Best Series for his work on Atlanta, and he made sure to use his platform for something important to him. Childish Gambino gave a special "thank you" to the hip hop superstar group for making the smash hit, which has taken over social media by storm in the last few months.
Now, the group is reaping the benefits of the song taking off, as they've officially landed their first no. 1 hit on Billboard's Hot 100 chart. On top of this being the first no. 1 for Migos, this also gives Lil Uzi Vert his first no. 1 hit, as he has a verse featured on the track at the end.
Crazy enough, "Bad And Boujee" surpassed Rae Sremmurd's "Black Beatles" banger for the top spot, which happened to be their first no. 1 song on the charts as well. While the song has already been gaining a huge amount of traction on the Internet as far as popularity, it may have been Donald Glover's shout out that did the trick to get them to no. 1. According to reports, "Bad And Boujee" saw a 243% increase in the song's Spotify streams, while it racked up 3.6 million views between Sunday and yesterday.
It looks like Childish Gambino may be on to something special, as Migos revealed that they would love to work with the actor/rapper in the near future. The television writer hinted that he would love to work with the trio, so be on the look out for possible a collaboration sometime in the future.
The 25 Best Hip-Hop Albums of 2016