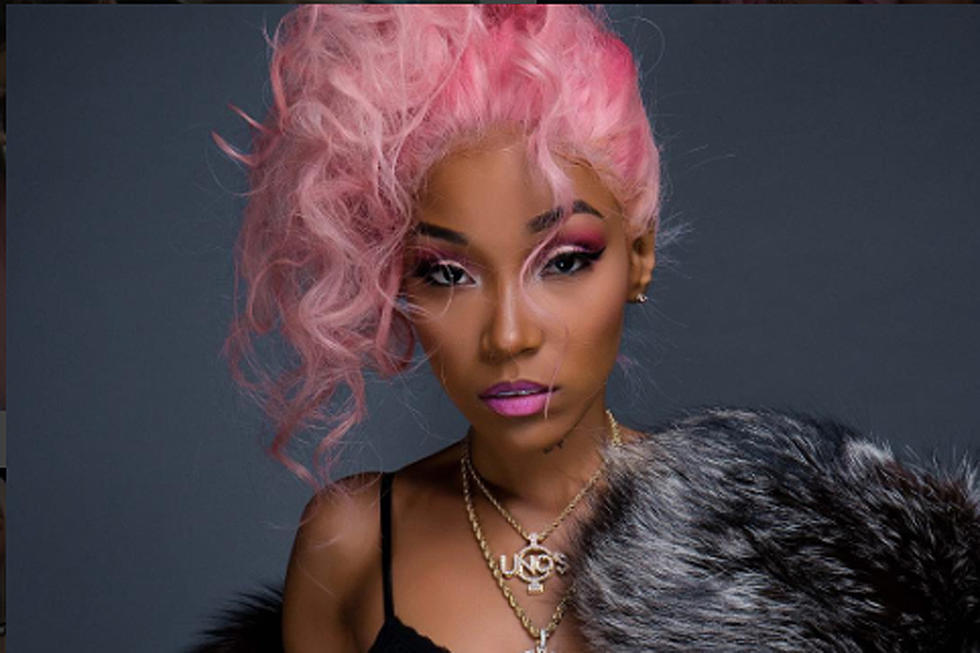 The Break Presents: Tokyo Jetz
Will Kennedy
In conversation, Tokyo Jetz is smiley, a bit shy and generally even-keel. But once the Jacksonville, Fla. rapper hops on a beat, she's raw, fiery, and unfiltered—just check her latest single "The One" for proof. The 23-year-old artist has rapped her way to viral fame and a deal with T.I.'s Grand Hustle imprint—all with a knack for words that seems natural.
"I actually used to do poetry, my older brother suggested that I try to put it onto a beat," Tokyo Jetz tells XXL. "We did it, and the first song that I ever recorded, everybody had it as their ringtone in Jacksonville." Then just an 11th grader, Tokyo released a flurry of freestyles via YouTube and Instagram. Her take on Yo Gotti's "Down in the DM" in 2016 snatched one million Instagram views in less than a week, and gained the attention of hip-hop stalwart T.I. After a few conversations, Tip flew Tokyo and her brother to Atlanta, impressed by the young starlet's work.
Tokyo's first meeting with T.I. was different from what she expected. "I thought we was gonna meet at a office building," she remembers. "We met at the studio." Tip wasted no time, requesting that she jump on a song. After Tokyo laid her verse down, a conversation with the boss man lead to her signing to Grand Hustle. "He came into the situation, asking me what did I want, and what was I absolutely against. Nobody had ever done that out of everybody that I sat down with."
Tokyo's first song with Hustle Gang was "Friends," the final single from the crew's 2017 album We Want Smoke. The video broke 9 million views, and Tokyo quickly became a fan-favorite. She also dropped her solo mixtape Viral that year, with the video for "Sunshine Baby" nearing 400,000 views.
Nowadays, Tokyo Jetz's is hard at work at her next project: Baby Goat. "Last year was amazing," she says. "We did TRL, we dropped 'Viral,' which did over a million streams, so I wanna double everything. 2018 needs to be bigger."
Get the inside scoop on Tokyo Jetz in the latest edition of XXL's The Break.
Hometown: Jacksonville, Fla.
I grew up listening to: "I grew up listening to a lot of R&B music when I lived with my mom. Mary J. Blige, Boyz II Men, 112, Tevin Campbell, Toni Braxton. When I moved with my dad that kinda changed. I started listening to 'Pac, Bone Thugs-N-Harmony, Tip, Biggie, A Tribe Called Quest."
My style's been compared to: "I am always compared to Tip—people say that I rap like him [laughs]. It might just be because they hear us on songs together, I don't know. I've been compared to Kevin Gates, 'Pac—which is amazing to me—Eve, Nicki Minaj, Remy Ma. I've been compared to almost any female rapper that's rapping right now."
Most people don't know: "I don't have any children. I have my nephews and my nieces with me all the time, and I have these A's tattooed on my neck: Aden, Aryria and Arryon. So people think that these are my children, but they're not. I send them home when I'm tired of them."
My standout records to date have been: "Right now, 'DM,' where I rap off of Yo Gotti's 'Down in the DM,' that's the song that went viral first. I still have to perform that song today. That's my biggest song, no matter where I go. My favorite song would probably be 'One Call Away,' featuring London Jae, because that's the first time I spoke on a lot of things in my life that people didn't know."
My standout moments to date have been: "The pastor from the church that I grew up in, I saw him recently. He wanted me to come back to the church to meet the kids. They didn't believe that I grew up there and I was raised there, but it was just amazing to me, because I don't feel like I've done this major stuff to be treated like that. I'm still humble at the same time, that just kinda showed me that I had done something to be proud of."
My goal in hip-hop is: "I wanna give people substance. I wanna be remembered for giving a message, not just making a club turn up. I want people to say that I stand for something, that I helped or encouraged. I wanna change something, I don't wanna just make a hot record."
I'm going to be the next: "Tupac. I'm not 'Pac—he's the G.O.A.T.—but I'll take Baby G.O.A.T.."
See New Music Releases for April 2018