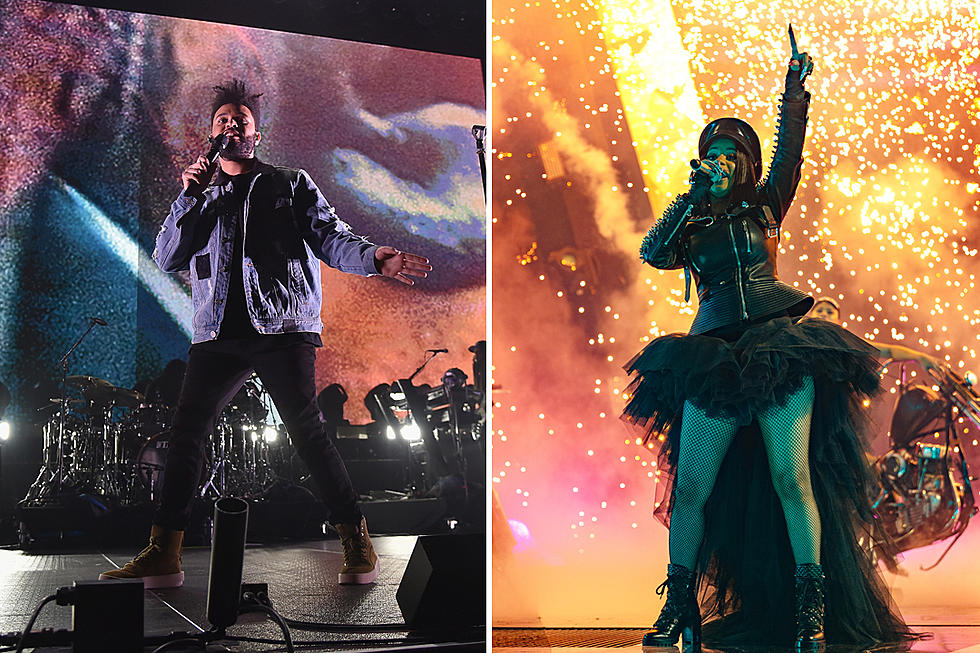 Best Songs of the Week Featuring The Weeknd, Cardi B and More
Theo Wargo/ Christopher Polk, Getty Images
The weather is breaking, and the music is starting to reflect the change in seasons. In yet another strong week full of anticipated releases and all-out surprises, it's hard to choose just a few songs as standouts. Nonetheless, the best tracks from this week are here. The Weeknd unites both eras of his sound with "Wasted Times," and Cardi B heads in a different direction with her new single "Be Careful." Enjoy XXL's best songs of the week.
With her debut album, Invasion of Privacy, dropping April 6, Cardi B is close to the release of her biggest project yet. To give a taste of what kind of music she'll have on the LP, she freed her latest single, "Be Careful," a passionate ode to an untrustworthy lover. While she still raps on the song, the most surprising part is the sung hook, where she sounds very comfortable. "Its not a threat, It's a warning, be careful with me," she sings, convincingly.
With little warning, The Weeknd decided to drop a new project late last night, titled My Dear Melancholy,. The project as a whole is both a reminder of the dark and creeping origins of his music, melded with his pop leanings that led him to superstardom. "Wasted Times," featuring techno producer Gesaffelstein, is the perfect marriage of the two styles. With its clean and upbeat production, the pain in the lyrics can slide right by you. He asks, pleadingly, "And now I'm askin', who do you belong to now?/Who you give that love to now?"
DJ Esco, Future's brother-in-arms, dropped his album Kolorblind today. The album's outro, "Fuk Faces" is an impressive ending, with a controlled Future rapping about all the ways he plans to keep his lady fresh. "Get the bust down Patek like you Bardi/I'ma spoil you like a brat, you a Barbie," he raps, a cool nod to another rapper who's got one of the best songs this week.
Rich The Kid's name has been everywhere recently, especially with his album, The World Is Yours, releasing today. Keeping it in the family, Rich partners up with his Rich Forever Music signee Jay Critch, then adds in Rick Ross (who goes by @richforever on Instagram and dropped a tape of the same name). The connection isn't lost on Rick Ross; "Niggas singing 'Rich Forever,' so you know we related!" Critch is placed perfectly on the song, and the final product is good enough to hope for more collabs between the trio.
Smokepurrp and Murda Beatz have a collab project titled Bless Yo Trap on the way, so the two will be teaming up and churning out quality music until then. The duo's new song is "Do Not Disturb," featuring Quality Control's Lil Yachty and Offset. Offset spitting, "Off an addy, go cop a robot/ My bitch she plastic, she bust down a yacht/I keep the du-du-du stuffed down my crotch" is raw, and he handily rolls through the rest of the verse.
Cali rap trio Pac Div have returned, after going on a hiatus of sorts, with all three members (Mibbs, Like, BeYoung) going on solo endeavors. Considering that they were most popular in the early 2010s, its refreshing to hear them sound as if they never took time off on "Stoked," their new track. Over a beat that catches you off-guard with its thump, the crew sounds poised to make moves. Their album, 1st Baptist, is shaping up to be a fun listen, when it hits the streets on April 10.
Listen to the best songs of the week below.
Check Out the 2018 Hip-Hop Music Festivals You Need to See