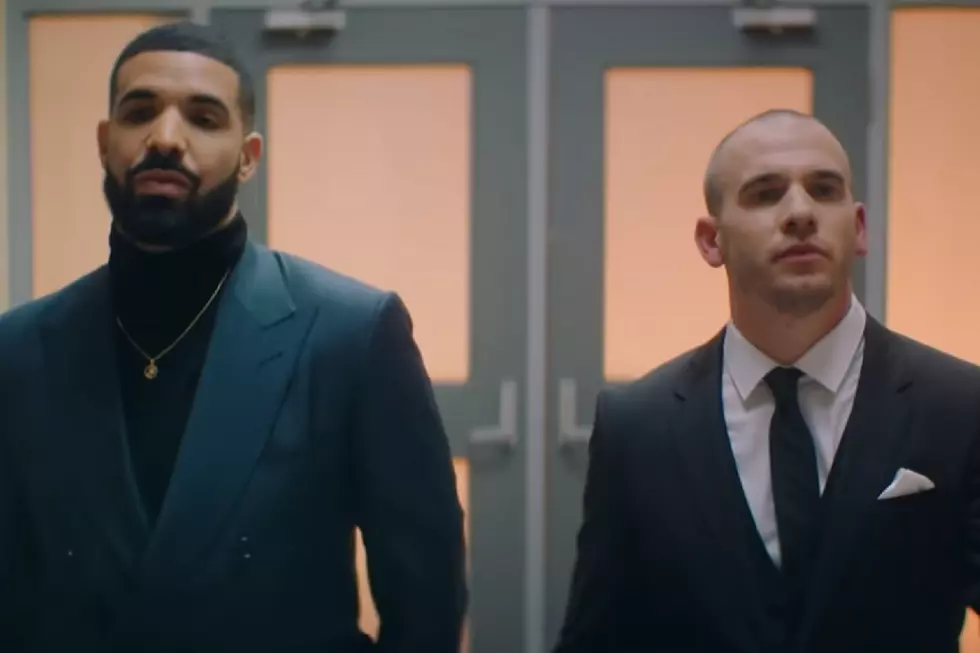 Watch Drake Stage an Epic 'Degrassi' Reunion In 'I'm Upset' Video
OVO Sound, YouTube
The rapper's newly released video for "I'm Upset" finds him reuniting his old castmates from Degrassi, on which — for those woefully unfamiliar with his acting career — he starred as Jimmy Brooks from 2001 to 2009. It opens with Drake rousing from bed in the middle of the Air Canada Centre (because sure) to a calendar notification alerting him to a high school reunion that evening. He then takes a swig of champagne, as one does when they wake up on a basketball court, and quietly sneaks away from the still-sleeping woman beside him to meet his former on-screen BFF, Shane Kippel (Gavin "Spinner" Mason).
Soon enough, they're rolling up to Degrassi in a lambo, where the rest of the class of '07 are waiting to welcome them with a debaucherous rager. (We'll just ignore that it is, implausibly, their 11th year reunion.) Appearing are Lauren Collins (Paige Brooks), Nina Dobrev (Mia Jones), Jake Epstein (Craig Manning), Stacey Farber (Ellie Nash), Lauren Collins (Paige Michalchuk) and many, many others. They drink heavily and hook up in bathrooms; chase Ephraim Ellis (Rick Murray), who famously shot Drake's character, leaving him paralyzed, down a hallway; and even Jason Mewes and Kevin Smith (in character as Jay and Silent Bob) show up, fittingly, to sell pot to the principal (Stefan Brogren's Archie Simpson).
The video ends after the school catches on fire, forcing them out, followed by some post-credit archival footage from Drake's time on the show set to its theme song. Watch below.
18 TV Shows That Premiered 10 Years Ago