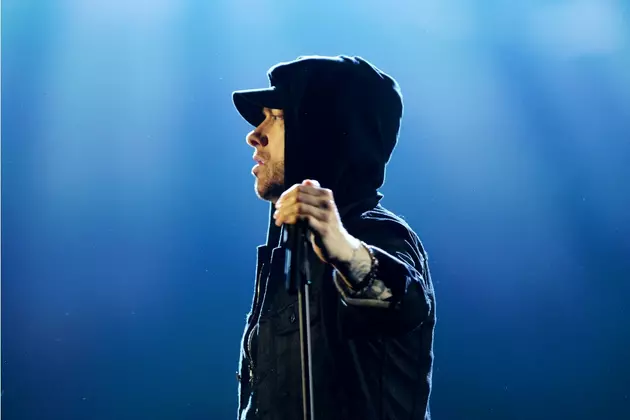 20 of Eminem's Best Song Collaborations
Dave J Hogan, Getty Images
Eminem has always been the kind of artist to keep features at a minimum on his albums. With the talent he has as a lyricist, he doesn't need too many outside voices to come in and support what he's got going on. The legendary MC always has his message come first and foremost.
Still, Eminem decision to bring in fellow artists to give him some help has worked to his benefit with plenty of classic tracks. His mentor Dr. Dre has made plenty of appearances on Em's tracks, and so have others on his Shady Records label or Dre's Aftermath Entertainment. He's also done regular work with his group D12 and formed the Bad Meets Evil duo with fellow Detroit native Royce 5'9".
Pop stars like Rihanna, Beyoncé and Sia have all collaborated with him on more recent offerings, with the joint efforts featuring RiRi—"Love the Way You Lie" and "The Monster"—serving as fan favorites. It's an interesting move for somebody who burst onto the scene as a voice who called out pop stars in the late 1990s and early 2000s. Yet it was almost inevitable for him as one of the most successful acts of a generation to work with ladies like this in the pop world; they've become some of Eminem's biggest hits.
In honor of this new single, here are 20 of Eminem's best song collaborations. While it's clear Marshall Mathers has plenty of joint tracks, these selections are limited to songs where he receives top billing and not as the featured artist. Did your favorite make the cut?
"Stan"

Eminem Featuring Dido

"Till I Collapse"

Eminem Featuring Nate Dogg

"When the Music Stops"

Eminem Featuring D12

"Go to Sleep"

Eminem, Obie Trice and DMX

"The Monster"

Eminem Featuring Rihanna

"The Reunion"

Bad Meets Evil

"Guilty Conscience"

Eminem Featuring Dr. Dre

"Bitch Please II"

Eminem Featuring Dr. Dre, Snoop Dogg, Xzibit and Nate Dogg

"Love Game"

Eminem Featuring Kendrick Lamar

"Hail Mary"

Eminem Featuring 50 Cent and Busta Rhymes

"Say What You Say"

Eminem Featuring Dr. Dre

"Bad Meets Evil"

Eminem Featuring Royce 5'9"

"No Love"

Eminem Featuring Lil Wayne

"You Don't Know"

Eminem Featuring 50 Cent, Ca$his and Lloyd Banks

"Detroit vs. Everybody"

Eminem, Royce 5'9", Big Sean, Danny Brown, Dej Loaf and Trick Trick

"Fast Lane"

Bad Meets Evil

"Remember Me?"

Eminem Featuring Sticky Fingaz and RBX

"Won't Back Down"

Eminem Featuring Pink

"Crack a Bottle"

Eminem Featuring 50 Cent and Dr. Dre

"Living Proof"

Bad Meets Evil