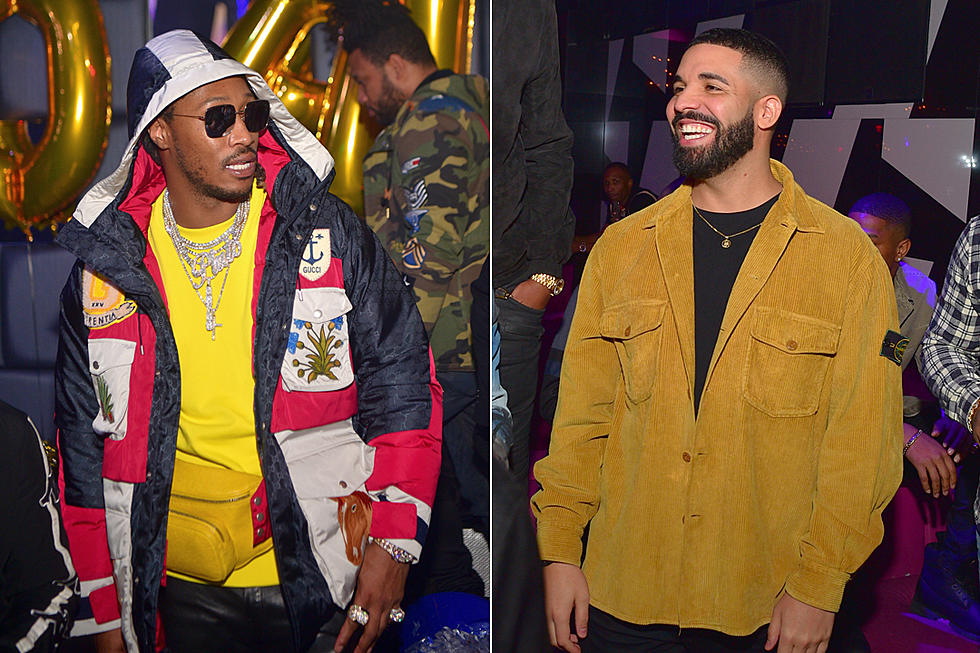 Future Breaks One of Drake's Billboard Chart Records
Prince Williams, Getty Images (2)
With Future's new album The Wizrd debuting at No. 1 on the Billboard 200 this week, it makes sense that it also took the No. 1 on Billboard's Top R&B/Hip-Hop Albums chart. According to Billboard, that means Hendrix has officially passed Drake for the most No. 1s on the Billboard Top R&B/Hip-Hop Albums chart this decade.
Prior to The Wizrd's release, Future and Drizzy shared the accolade with eight No. 1s each on the Top R&B/Hip-Hop Albums chart. One of their No. 1's is for their 2015 collaborative effort, What a Time to Be Alive. Just behind them are Chris Brown, J. Cole, The Game and The Weeknd, who are all tied in third place with five No. 1s each for the 2010s. As for the all-time crown holders, that goes to The Temptations with 16 No. 1s.
Currently, eight songs from The Wizrd are sitting on Billboard's Hot 100 chart, and songs from that project helped him accomplish another crazy feat. The Atlanta rapper has now tied with Taylor Swift for the most Hot 100 hits in Billboard's history, as his latest single "Crushed Up" made for his 77th entry on the chart.
Take a look at all of Future's No.1 albums from the Top R&B/Hip-Hop Albums chart and the date they debuted below.
Future's No. 1 Albums on the Top R&B/Hip-Hop Albums Chart
Honest, May 10, 2014
DS2, Aug. 8, 2015
What A Time to Be Alive, Drake & Future, Oct. 10, 2015
EVOL, Feb. 27, 2016
Future, March 11, 2017
HNDRXX, March 18, 2017
Super Slimey, Future & Young Thug, Nov. 11, 2017
Future & Juice WRLD Present…WRLD on Drugs, Nov. 3, 2018
Future Hndrxx Presents: The WIZRD, Feb. 2, 2019
See Photos of Future's Different Looks Over the Years