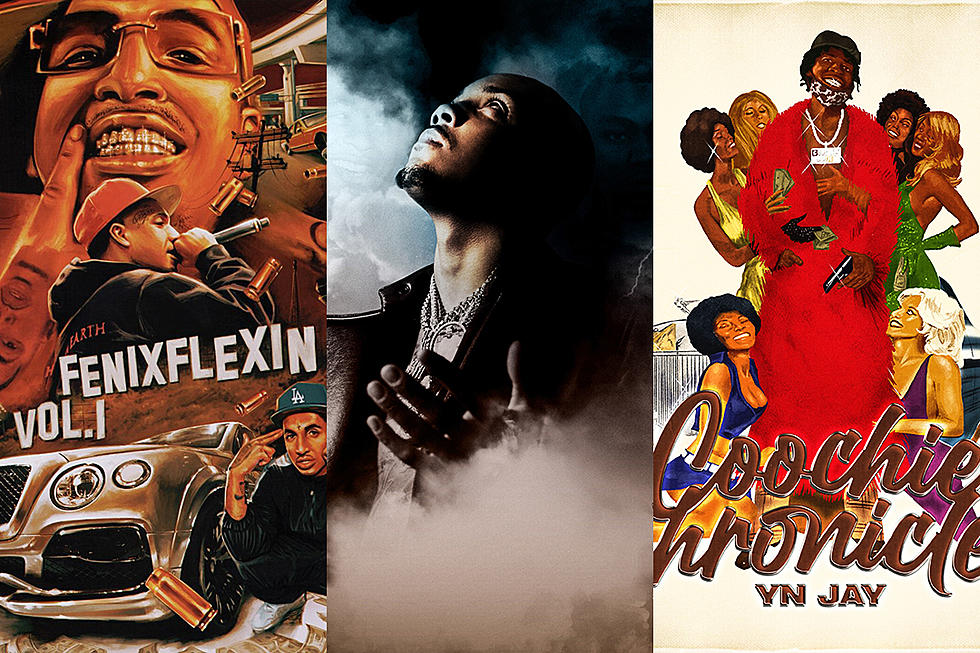 G Herbo, Fenix Flexin, YN Jay and More: New Projects This Week
Atlantic Records / Machine Entertainment Group, LLC / Republic Records / YN Records, LLC
This week, some of your favorite rappers are offering up the perfect soundtracks for the Fourth of July holiday weekend. There are new arrivals from a former XXL Freshman, a rapper from California who's dropping his first solo project and a rising Michigan-bred rhymer with lots of lyrics aimed at the opposite sex.
Following his 2020 effort, PTSD, G Herbo delivers his new 19-track album, 25. Leading up to the LP's release, the 2016 XXL Freshman dropped a trailer chronicling all he's been through up to this point in his life. "I ain't never see myself going this far in life," the Chicago rapper tells. "I always wanted to be somebody since I was a kid. Seen death way too many times. I been shot, I been to jail. I done been broke. And I took everything that came with this street shit. All the killing, fear, overcoming that fear. Now, I'm 25. I feel like I'm at the top of my game." Listen to songs featuring 21 Savage, Polo G, Lil Tjay, The Kid Laroi, Gunna and even Herb's son, Yosohn.
On Wednesday (June 30), Fenix Flexin, cofounder and former member of the Los Angeles-based group Shoreline Mafia, dropped his debut mixtape, Fenix Flexin Vol. 1. The tape contains 15 songs in total and appearances from Drakeo The Ruler, Rob Vicious and the late Mac P Dawg, who was shot and killed in April of last year. The release is led by the single "NDS" and contains a number of laidback, feel-good tracks with West Coast flavor.
On the same day, Flint, Mich. native YN Jay, known for his uber-catchy track "Coochie," released his new project, Coochie Chronicles. Jay's latest work contains 15 songs and appearances from 2021 XXL Freshman Coi Leray and more. YN Jay's remix to "Triple S" featuring Coi, arrived a week ahead of the project. Coochie Chronicles is his second project this year, following Ninja Warrior, released in January.
See more new music from Peezy, Nas and more below.
Machine Entertainment Group, LLC / Republic Records

Machine Entertainment Group, LLC / Republic Records

Fenix Flexin Vol. 1

Fenix Flexin

It Was Written (Expanded Edition)

Nas

Life of Betrayal 2x

Yungeen Ace

Cinematic Music Group / ATK

Cinematic Music Group / ATK

#Boyz Entertainment LLC / Empire

#Boyz Entertainment LLC / Empire

40 Days and 40 Nights

Young Buck