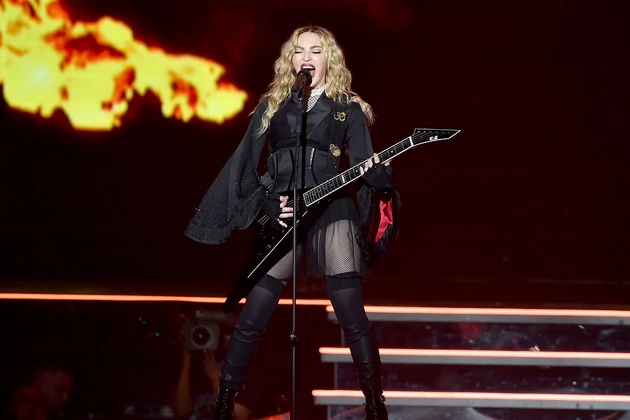 Madonna Granted Permission to Adopt From Malawi, Despite Denying Initial Reports
Kevin Winter, Getty Images
Madonna, Queen of Pop, might have supplied us with the ahead-of-its-time 1991 film Truth Or Dare — but it appears she'll occasionally opt for a lie every now and then.
When an initial AP report surfaced two weeks ago claiming that Madonna came to Malawi to file an application to adopt two more children from the country, the icon shot down the news with a statement via publicist.
However, a Malawi High Court spokesman confirmed today (Feb. 7) that Madge has just been granted permission to adopt.
"The country's High Court made the ruling today...Malawian judiciary spokesman Mlenga Mvula said the singer was inside the court in Lilongwe when the ruling was given. 'In fact, at the time we were granting her the permission she was in the courtroom with her lawyers,' Mr Mvula said," the BBC reports.
"I am in Malawi to check on the children's hospital in Blantyre and my other work with Raising Malawi, and then heading home. The rumors of an adoption process are untrue," Madonna stated via publicist two weeks ago.
Currently, Madonna has four children.
In 2006, Madonna adopted her son, David Banda, from Malawi. She adopted her daughter, Mercy James, from Malawi three years later. The two new children would also become siblings to Madonna's 20-year-old daughter with Carlos Leon, Lourdes, and her 16-year-old son with Guy Ritchie, Rocco.
Madonna's maintained a longstanding relationship with the people of Malawi ever since founding her charity, Raising Malawi, alongside Michael Berg in 2006 in an effort to tackle extreme poverty and to provide aid to orphans in the southeastern African country. Malawi's President Mutharika named Madonna the Goodwill Ambassador for Child Welfare in 2014.
Perhaps her next statement via publicist will be something along the lines of: "Fooled ya."
25 Celebrities Who Supported Hillary Clinton for President: