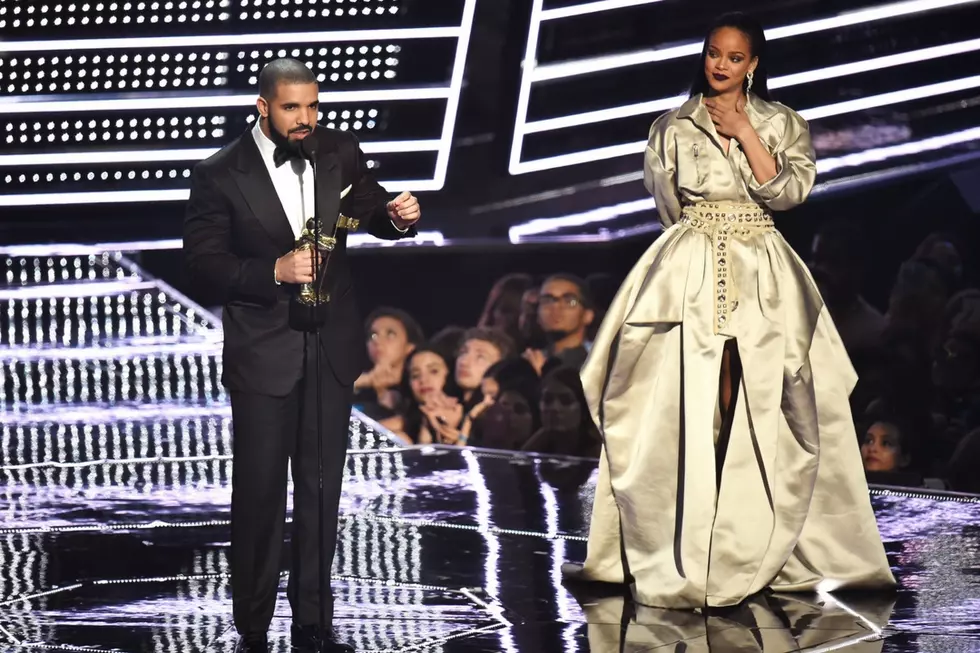 Rihanna: Drake's Love-Declaring 2016 VMAs Speech Was 'Uncomfortable'
Michael Loccisano/Getty Images)
"Waiting through that speech was probably the most uncomfortable part. I don't like too many compliments; I don't like to be put on blast," she said of the show in Vogue's June cover story.
For many fans, Drake's declaration served as confirmation of long-standing rumors that he and Rihanna had dated. "She's someone I've been in love with since I was 22 years old," he'd said at the time, introducing her as the recipient of that year's Vanguard Award. "She's one of my best friends in the world."
Nowadays, though, it seems the pair have fallen out of touch. Vogue noted that Rihanna "winced" at the mention of Drake's name, and when asked where their relationship stood, said, "We don't have a friendship now, but we're not enemies either. It is what it is."
Elsewhere in the interview, she confirmed she was dating someone — she's been romantically linked to Saudi businessman Hassan Jameel — and teased her upcoming ninth record, a reggae album influenced by the likes of Bob Marley, Jamaican producer Supa Dups, and dancehall icons Beenie Man, Sean Paul, and Elephant Man.
She's yet to reveal a title or release date for the project, which follows 2016's ANTI.
26 Times Rihanna Had Hollywood's Hottest Style