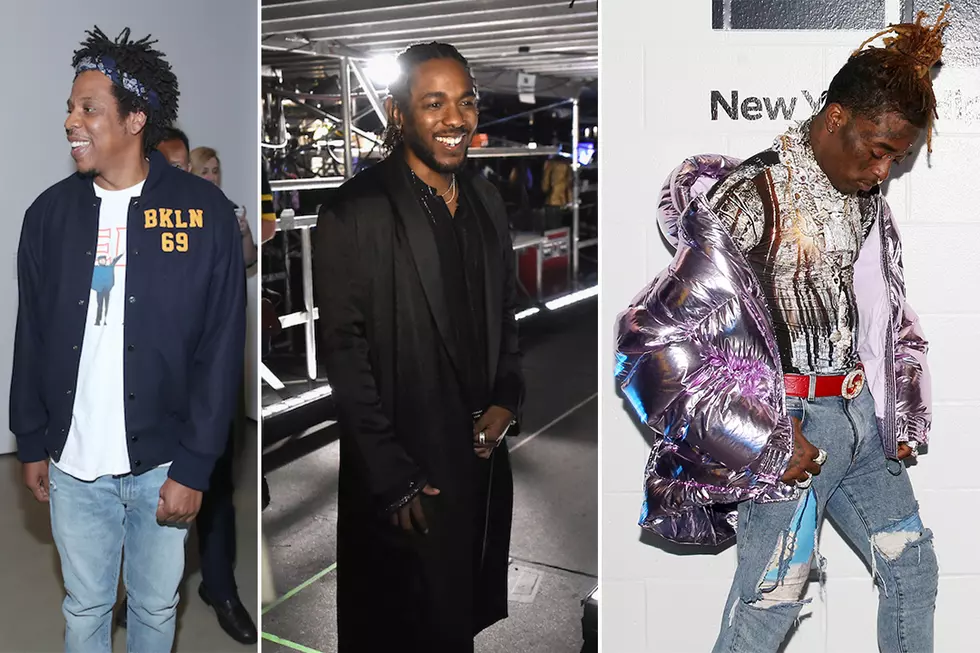 A Brief History of Rappers Using Spanglish in Song Lyrics
Randy Shropshire / Nicholas Hunt / Bennett Raglin, Getty Images
Nearly 9 million listeners have cued up rap newcomer Ambjaay's video for the numbers-running "Uno." But the L.A. rap artist is hardly the first to strike gold—and leave a few heads scratching—by flexing a Spanglish flow that smashes English and Spanish raps together in a fun, if sometimes clumsy, way.
"I had to include Latino culture because it's like a Latino beat," Ambjaay explained to Genius. "To be honest, Latinos and black don't really be getting along, so this song can bring us together. It's a Hispanic-type beat but still wanted to keep both cultures. So, I just ran with that and made this song."
While a handful today's major hip-hop artists like Cardi B., Future and Drake have scored radio smashes by linking with legitimate Latin stars such as Bad Bunny, the fusion ain't really nothing new.
To varying degrees of believability and ability, MCs have long been trying to speak with a forked tongue in attempt to expand their audience, disguise an explicit phrase in the language of romance, challenge their pen game or just have some fun.
"In the future," Horacio Rodriguez, the vice president(e) of marketing for Universal Music Latino, recently told Rolling Stone, "the division isn't going to be English and Latino anymore. It'll just be one market."
XXL looks at some memorable examples from hip-hop's history with Spanglish bars. —Luke Fox
"Mentirosa" (1989)

Mellow Man Ace

Sample lyric: "He told me you were drinking/And wasting my dinero/Talking about/Come and enjoy what a woman gives an hombre/(But first of all see I have to know your nombre)"

Born in Cuba and raised in Los Angeles, Mellow Man Ace (born Ulpiano Sergio Reyes) came by his bilingual raps honestly. Ace struck the greatest hit of his career, a top-15 Billboard charter, when he sampled Santana's "Evil Ways" and spiked his love story with Spanish lingo—dinero, hombre, nombre—that even a gringo could comprehend. Though his later output never matched the sales or interest as his Escape from Havana debut, Ace would go on to gain notoriety as the godfather of Latin rap.

"Latin Lingo" (1991)

Cypress Hill

Sample lyric: "Sen Dog is not a kid or veteran/I'm down, another proud hispano/One of the many of the latin de este año/And I got plenty for the Jennies tryin' to hound dog/But wait, they're clownin' on me cause of my language/I have to tell em straight up, its called Spanglish/Now who's on the pinga the gringo/Tryin' to get paid, from the funky bilingual"

Fun fact: Sen Dog is the younger brother of Mellow Man Ace. Even better: His group, Cypress Hill, helped propel the blending of the English and Spanish languages over a hot beat. In "Latin Lingo," the final single off Cypress Hill's smash self-titled debut, the stoned walkers wore their Cubano influences on la manga. A Tribe Called Quest's second-in-command was the Funky Diabetic. Cypress's No. 2 was the Funky Bilingual.

"Senorita" (1997)

Puff Daddy

Sample lyric: "Mami ven aqui, I wanna be your/Papi chulo can't you see?/Baby, I need you conmigo/Your style is my steelo, te necesito aqui/Te necesito yo a ti, te amo"

Diddy's come-hither "Senorita" stands as one of just a few completely solo efforts on his Grammy-winning, seven-times-platinum debut LP, No Way Out—and it's a bit of an oddball. Pure anglophone lines such as "Her name is Carmen, she live down in Spanish Harlem/And I think I have the key to her secret garden" and "Make love in a hot tub, where there's a hot towel" could make you vomit in your mouth a little bit. Better is his charming—if off-key—Spanglish hook, which may or may not have been inspired by Puff's onetime girlfriend, Jennifer Lopez, arguably the most successful Latin performer in the U.S. DJ Khaled's recent "You Stay," featuring J Balvin, Meek Mill, Jeremih and Lil Baby, flipped the "Senorita" sample this summer to give it new life.

"Mi Amor" (2001)

Angie Martinez Featuring Jay-Z

Sample lyric: "How you say 'my love' in Spanish? (Mi amor)/(How you say 'my love' in thug?) Can I hit it raw?/In the backseat of my jeep, or maybe on the floor/(Easy, papi) Nah, mami, teach me more/(Tratame especial means treat me special)/I ain't got no time for that now, dame beso/(Wanna keep a good girl like I told you before)/(Easy papi) Yea, teach me more"

New York radio personality Angie Martinez—who is of Puerto Rican, Cuban and Dominican heritage—recruited an all-star list of MCs for her Up Close and Personal album at the top of the century, the highlight being her he-said-she-said Spanish lesson with Jiggaman. (The "How you say 'my love' in thug?" response is something else.) That same year, Jay infused "Hola' Hovito" with some Spanish vocabulary. Both were fun experiments, Jay, but por favor, papi, stay in your lane.

"No Mi Importa" (2001)

Immortal Technique

Sample lyric: "Don't try to be hard cuz I don't stress faked fellas/I'll burn your house down and empty the clip of tu abuela/Mucha gente try to convince everyone that they trife/Hablando mierda but you never shot a gun in your life"

Translated as "I Don't Care" (word to Audio Two!), Immortal Technique's "No Mi Importa" stands as one of the more expertly executed Spanglish rap efforts, as the Peruvian MC and activist flip-flops effortlessly from one language to the other over the course of two blistering verses. It's a standout from his brazen indie debut, Revolutionary Vol. 1.

"Spanglish" (2008)

The Game

Sample lyric: "Picture me stuck inside this mind of a loco matador/'Bout to commit suicide behind them project doors/La vida loca, mi familia, estas loca/Don't fuck around with no snitch mayates"

Of partial Mexican-American heritage, the Compton rapper toys with a hard-edged Spanglish flow on a concept track titled—wait for it—"Spanglish." The Game makes sure to shout out Erik Estrada on the track. He would later revisit the language-mashing style alongside Skrillex for 2015's "El Chapo."

"Prom Night" (2012)

Chance the Rapper

Sample lyric: "Chano y tequila, you know you don't want that/I rap my songs in Spanglish, I wrap my weed in blunt wraps"

On his debut mixtape, One Day, Chicago indie-rap champion Chance the Rapper first hinted at the Spanglish flair he still occasionally draws upon. "Chano" means longevity. Yes, you do want longevity and tequila. Interesting aside: In 2016, a group of students in Nicaragua recorded Chance's "Blessings" entirely in Spanish.

"Collard Greens" (2014)

ScHoolboy Q Featuring Kendrick Lamar

Sample lyric: "Hold up, biatch!/This your favorite song/Translation, Ven aqui/Mami, asi culo/Tu quiero coger mi huevos/Y papi molestes pero/Chuparse puto pendejo/El pinche cabron, let's get it"

You should probably be 18 years or older to copy the Spanish portion of Kendrick Lamar's verse from ScHoolboy Q's excellent "Collard Greens" and paste it into a Google translate engine. Let's just say the huevos line has nothing to do with brunch. Still, this Oxymoron single proves TDE can bring the heat, no matter the tongue.

"Safe House" (2015)

Lil Uzi Vert

Sample lyrics: "Spanish bitch like, 'Hola, como estas?'/'Muy bien, todo gracias'/Speaking Spanish, I'm surprising y'all/Baby girl, I need you/Spanish mama, I need you/She said, 'Boy, let me teach you'/I said, 'Girl, mama, vea tu'/Told that girl just to lick it clean"

Yes, Lil Uzi Vert surprised listeners by weaving in some Spanish this trap anthem. But when you translate the rapper's conversation with his female friend here, it's not quite as impressive or deep as you might think. "Hola, como estas?" means "Hello, how are you?" and "Muy bien, todo gracis" means "Very well, thank you." Which, as you can see by where the verse takes off from there, serves as quite the effective pickup line.

"Krippy Kush (Remix)" (2017)

Rvssian, Farruko and Bad Bunny Featuring Nicki Minaj and 21 Savage

Sample lyric: "With my plug, I call him Poncho, but I think he wants some chocha/Put this pussy in his boca, make my niggas take his coca/Now I'm balling like I'm Sosa in that Lamborghini rosa/Yelling, 'Viva Puerto Rico!' all my bitches es hermosa"

Nicki Minaj freaks her Spanglish flow on her scene-stealing cameo on the "Krippy Kush" remix, one of a series of Latin rap-reggaeton collaborations featuring Bad Bunny. For those curious, "boca" is "mouth," "rosa" is pink, and "hermosa" means beautiful.