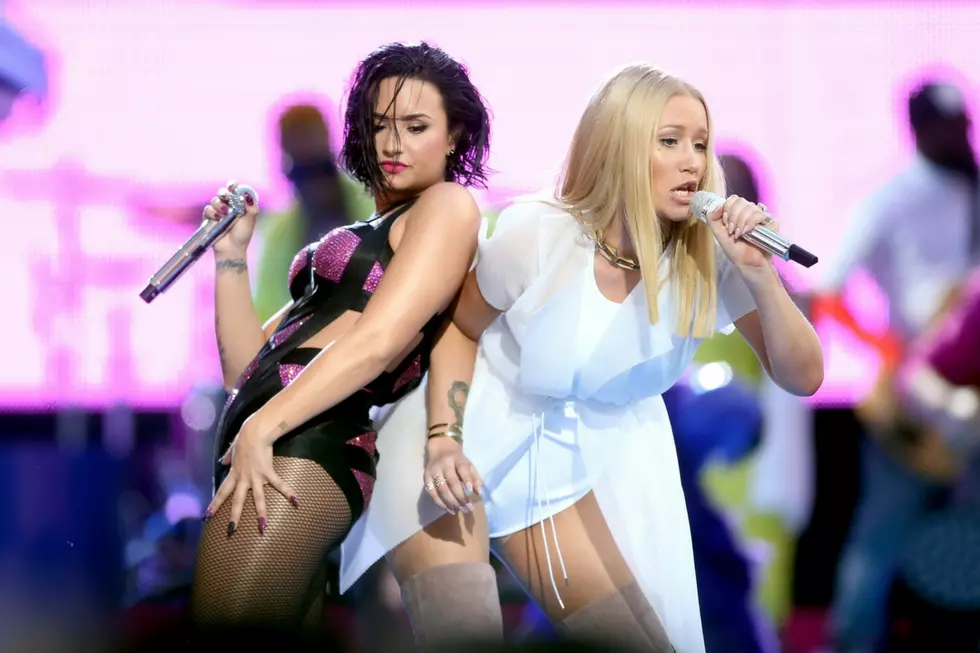 Iggy Azalea: Demi Lovato Inspired Me to Seek Help
Frederick M. Brown/Getty Images
Iggy Azalea has four Grammy nominations, a platinum-certified debut album, and a smattering of hit singles, but one of her biggest claims to fame is her infamous Twitter feuds, of which everyone from Britney Spears to Snoop Dogg have been a target.
Now, as she prepares to return with Surviving the Summer, her first record in four years, the "Savior" rapper has reflected on her anger-fueled past in a new interview with Billboard, telling the outlet that her close friend, Demi Lovato, inspired her to seek treatment after her managers staged an intervention.
"[My management team was] like, 'We think you're really talented and you can go to the studio and make hits all day, but we don't know if, you know, someone says something about you and you have a reaction it could ruin a branding deal. We need you to go and speak to these people and make sure that you're mentally prepared to come out with new music,'" she recounted. "I didn't want to go there — I didn't like the idea of being sent away somewhere. I was pissed."
Azalea explained she initially pleaded to leave Arizona, where her managers had confronted her, and find help back home in Los Angeles, but thought about how positive Lovato's life and career had become after she addressed her own mental health issues. (Lovato has openly struggled with addiction, bipolar disorder, and an eating disorder).
Eventually, Azalea agreed to remain in Arizona for a visit that included two weeks of "intensive therapy" with mental health professionals — something that ultimately proved worthwhile.
"It was good to say something to somebody who could give me the tools and information on how to make my life manageable when I'm feeling those things," she continued. "So it was really useful — I'm glad that I went."
Still, Azalea said Lovato is one of the few people who have stood by her throughout a tumultuous last few years that included a new label, several accusations of appropriation, and a very public breakup.
"If I'm being honest, the only people who have been there for me are Quavo, Kesha and Demi," she said. "Everyone else has pretty much acted like I don't exist."
Surviving the Summer is expected later this year.
Celebs in 2008 vs. 2018