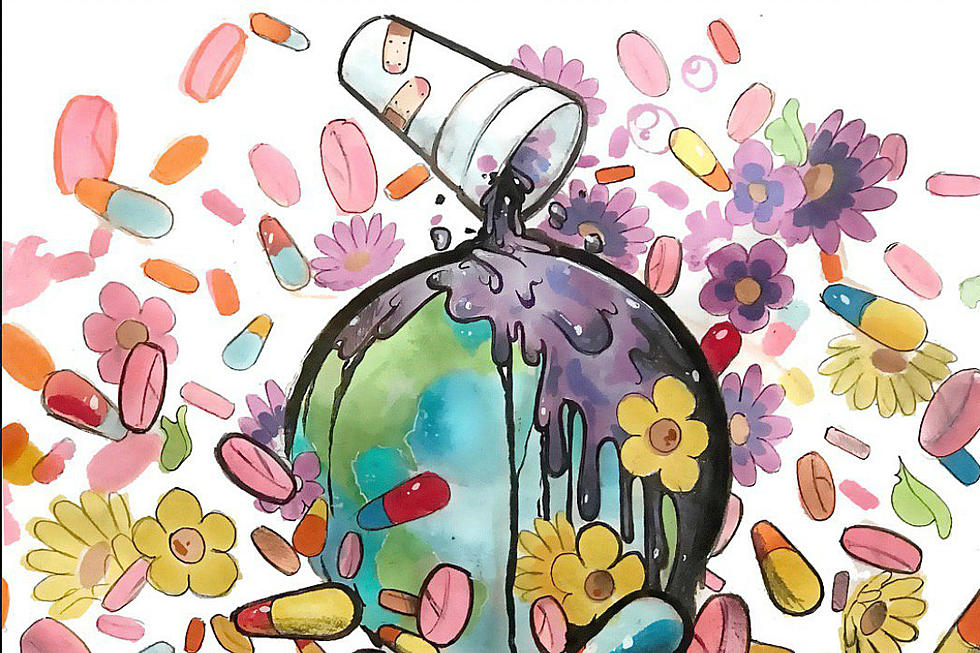 Juice Wrld and Future Are Fitting Foils on 'Wrld on Drugs' Album
Epic Records
Wrld on Drugs, the out-of-nowhere release from Future and Juice Wrld, makes sense on every conceivable level. It's the logical conclusion of a four-year reign at the top—the exact amount of time necessary to leave a lean-colored stamp on an impressionable high school mind. So it was only a matter of time before the template Future perfected on Monster, Beast Mode, 56 Nights and DS2 bore imitators, spin-offs and tie-ins. Enter Juice Wrld, the 19-year-old Chicagoan whose Sting-sampling single, "Lucid Dreams," reached No. 2 on the Billboard Hot 100.
Juice Wrld's musical aesthetic owes as much to legacy rock label Fueled by Ramen as it does Future. The slight nods to emo pop in Juice's performances are often his greatest strength. Even when some of his experiments fail, it seems like they might pay dividends in the future. But even considering the disparity in age and tastes, this is the best Future joint project to date. Juice Wrld energizes Future in a way that Drake and Young Thug (on What a Time to Be Alive and Slime Season, respectively) seemingly couldn't. Where Wrld on Drugs falls short, though, is in its inability to reach anything resembling a point.
Juice consistently sets the tone of Wrld on Drugs while Future, in a strange move, almost completely defers to his protégé. The result is an album full of amazing melodies and earworm production that buckles under the weight of its subject matter. Take lead single "Fine China," produced by Wheezy, Psymum and SinGrinch. The beat's percussion expertly flirts with pop without losing the trap elements that define Future's sound. It gives Juice Wrld an interesting framework to improve on his voice. The issue is that the singing rapper seemingly finds the worst possible way to say everything on the song's hook: "It's her body or nobody, I refuse to compromise/So if she leaves I'm a kill her, oh, she a die." Juice Wrld, jokingly or not, burns through an album's worth of goodwill in about 30 seconds, and Future's scene-stealing verse isn't enough to course correct.
Album opener "Jet Lag" succeeds where "Fine China" fails. Juice bounces on the song's hook effortlessly and Future's brings home the album's vague mission statement: "Got the whole world drinkin' dirty." On "Transformers," Nicki Minaj—like Young Thug and Lil Wayne, elsewhere—falls into workhorse mode when paired with Future, delivering a serviceable performance (and some spicy talk that many believe is directed at Cardi B).
Wrld on Drugs' midsection suffers from trap bloat: excess fodder to pad streaming numbers. The keys on the Young Thug and Murda Beatz-assisted "Red Bentley" sound like leftovers from Future's 2016 Evol sessions while "Oxy" feels lazy in the most obvious way possible—the song's chorus is just the title repeated ad nauseam. Over the course of 49 minutes, words like, "oxy," "detox" and "Percs" become virtually meaningless.
Where the album transcends the limitations of its tedious concept is the title track "Wrld on Drugs" and "Hard Work Pay Off." The two songs mark rare moments where Future sounds earnest on the album: "I can hear the voices in my head/If I'm sober then I might be dead/I can see the devil in my bed." Despite the melancholy (you can see where Juice Wrld gets his most defining characteristic), it's Future at his most vital. With "Hard Work Pays Off," Watt, Happy Perez and Andrew Bell give Juice Wrld a sparse bed of synths to Auto-Tune warble his way through the benefits of hard work and (callously) brush on suicide. By the time Future joins in, his voice feels warm and permanent in a way that his contemporaries can't match. "I'm so on 'em now my legacy will never fade," Future says with passion.
Overall, Wrld on Drugs is a mixed bag. Juice Wrld pushes Future in interesting ways, while growing stylistically himself. When he's not so embittered and combative, Juice's charm shines through. Meanwhile, Future is the veteran who reminds us on "Astronaut" that he's not a regular guy. The fact remains, though: The more Juice Wrlds there are, the more it dilutes the things that made Future singular. When the entire world is on drugs, no one is. —Dan From The Internet
See 63 Hip-Hop Artists Who've Gone Gold in 2018