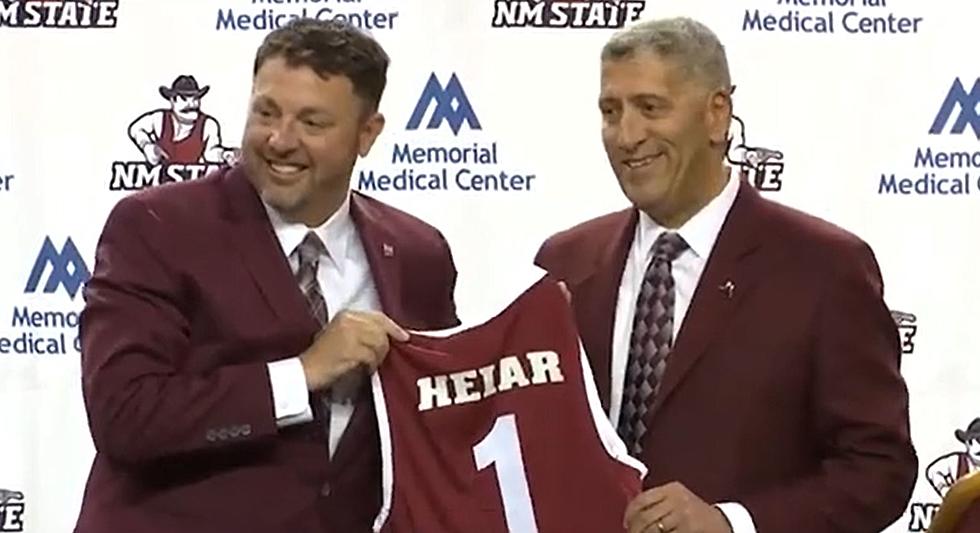 Dubuque Native Fired as Head Coach of New Mexico State
Photo Credit: KTSM 9 News, YouTube
Maybe only rivaled by Urban Meyer's disastrous and brief tenure with the Jacksonville Jaguars is Greg Heiar's with the New Mexico State Men's Basketball team, which came to an end after just 11 months this week.
Heiar, a Dubuque, IA native, was fired days after the school canceled the remainder of the Aggies' season after serious hazing allegations were raised. The hazing allegedly involved players on the team.
New Mexico State Chancellor Dan Arvizu condemned hazing in a letter issued shortly after the allegations came to light:
As I've stated previously, hazing has no place on our campus, and those found responsible will be held accountable for their actions. I am committed to the safety and well-being of all members of our campus community, as well as to the integrity of our university.
Heiar was named the 27th head coach in Aggies basketball history on March 27th, 2022, succeeding Chris Jans. Jans recorded a 122-32 record with the Aggies over the course of five seasons before accepting the head coaching position at Mississippi State.
Heiar's reign was marred not merely by an underperforming unit (9-15 record, with a dismal 2-16 record in-conference) but by many controversies and unwanted attention. In November 2022, Coach Heiar and his staff were involved in a scuffle with police when one of his athletes, Mike Peake, was attacked by four UNM students. The incident resulted in the death of a freshman student.
The back-breaking straw was when the entire New Mexico State Men's Basketball operation was put on administrative leave following the aforementioned hazing allegations on February 10th. Four days later, Heiar was fired.
Dubuque's Heiar has seen incredible success in the basketball world in the past. He went 165-15 as head coach of Chipola JC in Marianna, FL, and 31-5 in his lone season as NW Florida State's coach, before taking the New Mexico State gig. Heiar lost as many games with New Mexico State in his brief stint as he did in five seasons with Chipola JC.
Read the full story on Heiar's firing on ESPN.
Businesses that Dubuque Could Use!
Businesses and attractions that would be right at home in Dubuque, Iowa.