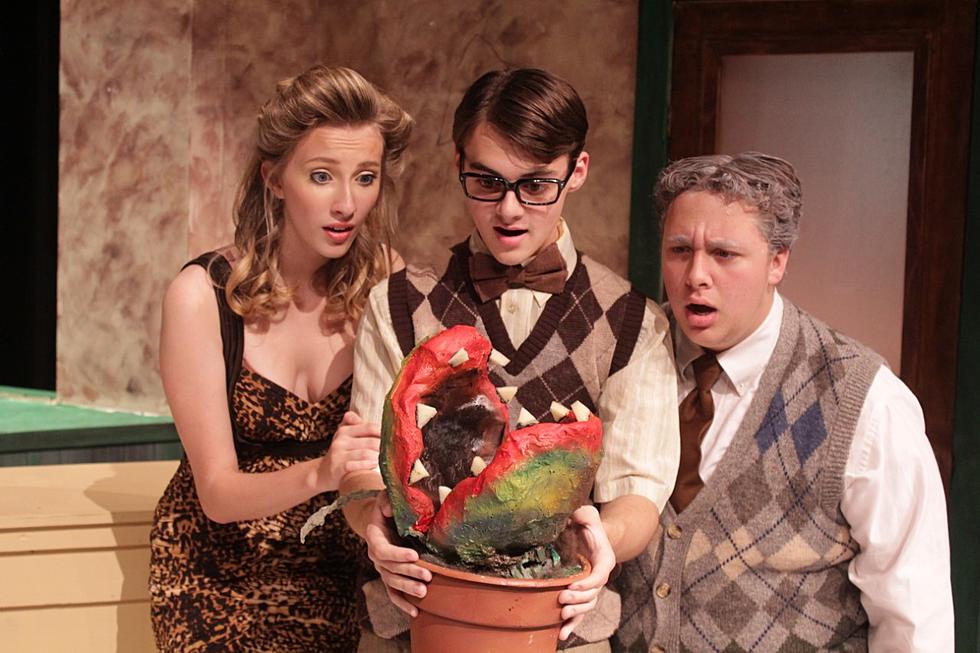 Dubuque Senior High School Presents "Little Shop Of Horrors"
Evelyn Maddux, Aidan Seville, and Joe Delaney in Dubuque Senior High School's production of Little Shop of Horrors
The Dubuque Senior High School Theater Department is busy prepping up for another great show this November! It's the comedy classic "Little Shop of Horrors"!
Two of the cast members stopped by the Y105 studio this morning to tell us about the production.
Evelyn Maddux, who plays Audrey, and Joe Delaney, who plays Mushnik, stopped in to tell us more, and both are excited about the upcoming musical!
While the original movie version came out in 1960, most of us remember the 1986 remake starring Rick Moranis and Steve Martin.
The story follows a lonely floral assistant named Seymour, who accidentally creates an alien plant, "Audrey II," that is bent on global domination.
Evelyn said she loves playing Audrey, Seymour's love interest who is not the brightest person in the world and who creates some of the funnier moments during the show. Since the show is set in New York, she's also had fun 'picking up' the accent to go along with her character.
Joe plays Mr. Mushnik, the store owner who is mostly grumpy, but also adds to a lot of the humor in the show.
The costumes look great and the creative elements to the show have been a lot of fun for the students to pull off, including the execution of the 'plant' featured during the performances.
There are about 50 cast and crew members for this production and Joe and Evelyn say it's been a blast.
Since the Dubuque Senior High School auditorium is currently being renovated, the performances will be held in the Dale Lass Auditorium at Eleanor Roosevelt Middle School, instead.
You can see "Little Shop of Horrors" on Friday or Saturday night, November 5th and 6th at 7 pm, and on Sunday, November 7th at 2 pm.
Get tickets in advance at the Dubuque Senior Drama WEBSITE, or grab them at the door before the show!
See How School Cafeteria Meals Have Changed Over the Past 100 Years
Using government and news reports,
Stacker
has traced the history of cafeteria meals from their inception to the present day, with data from news and government reports. Read on to see how various legal acts, food trends, and budget cuts have changed what kids are getting on their trays.