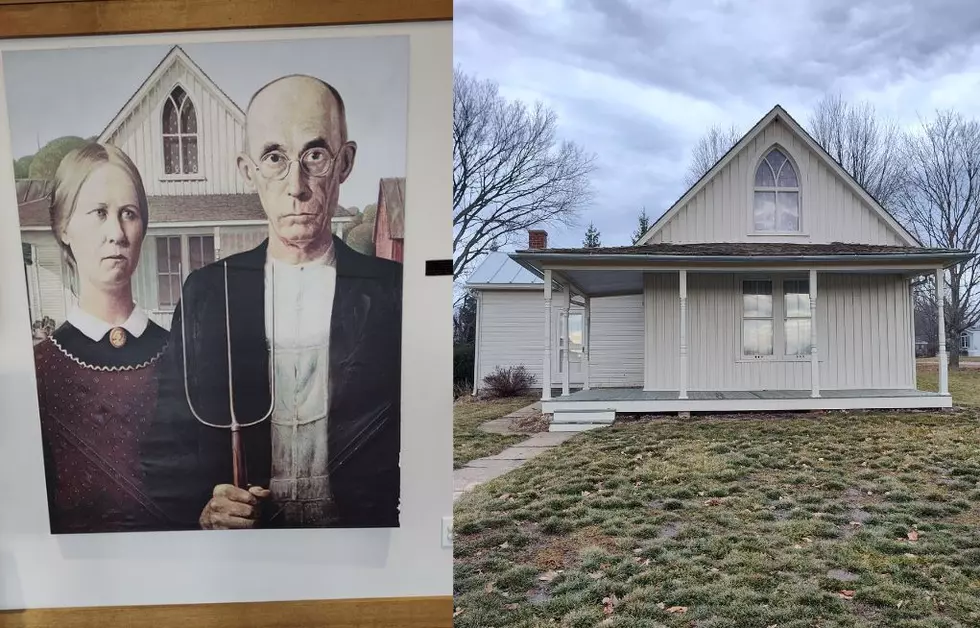 Iowa's Hidden Gem: The American Gothic House (PHOTOS)
Photo Credits: Steve Pulaski
When driving out to Davis County to visit my girlfriend this weekend, I noticed a sign outside of Eldon, IA that immediately caught my attention. It noted that the American Gothic House was just six miles away. I knew right then and there the first thing I was going to suggest my girlfriend and I do on our New Year's Eve weekend together.
Grant Wood's American Gothic needs no introduction. One of the most famous paintings of all time, the 1930 artwork depicts a farmer standing beside his daughter (not his wife) in front of what would be any average farm house for the era despite the presence of a Carpenter Gothic-style window on the second-story. The painting is rendered in such a way that makes the window the focal point, although you wouldn't be blamed if the expressions of the individuals themselves stole your attention.
The American Gothic House itself (also known as the Dibble House) was built in 1881 or 1882 by Charles and Catherine Dibble. In 1974, it was placed on the National Register of Historic Places. The house has had a plethora of private owners over the years. However, in 1991, it was donated to the State Historical Society of Iowa by Carl E. Smith. Thousands of visitors stop by each year.
Adjacent to the house is a visitor center, which boasts several amenities:
An exhibit gallery, with an array of exhibits related to Grant Wood, the house, and the painting itself
A media room, which shows two separate educational videos
Costumes for people to wear, as well as a variety of pitchforks to borrow for photo-ops
A selfie-stand for lone visitors who want a photo
A gift shop with a plethora of souvenirs
A prairie garden which has a lot of plants for nature lovers
The American Gothic House was a treat to visit and explore. I took home a few souvenirs, snapped a handful of photos, and compiled them into a gallery you can view below!
The American Gothic House is located at 300 American Gothic Street in Eldon, IA.
SEE PHOTOS OF THE AMERICAN GOTHIC HOUSE AS WELL AS THE VISITOR CENTER + GIFT SHOP!
The American Gothic House in Eldon, IA
A collection of photos from my visit to the American Gothic House in Eldon, IA.