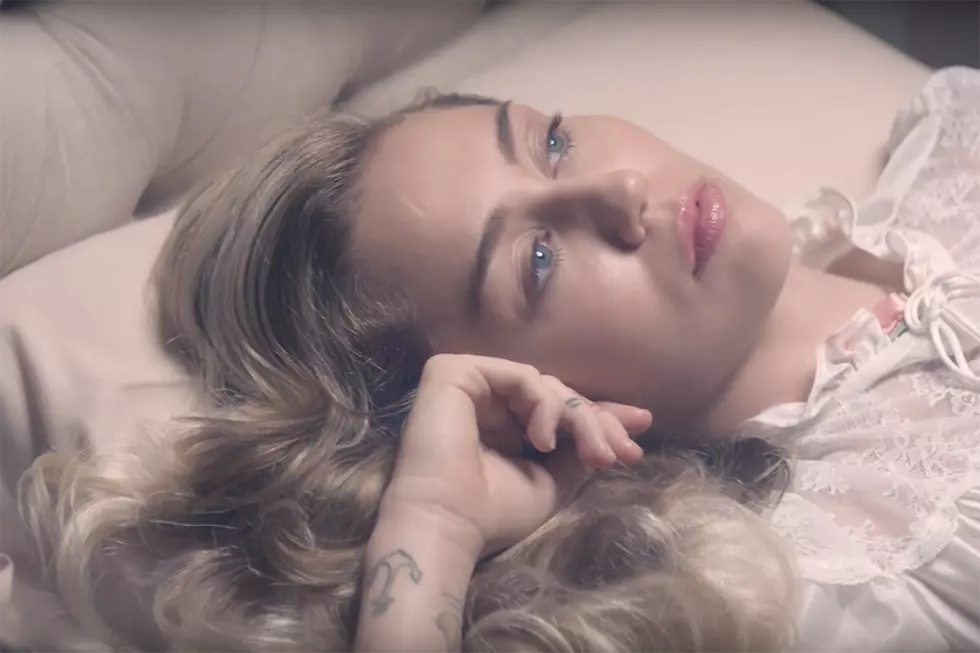 Miley Cyrus Releases Single, Video and Tracklist for 'Younger Now'
YouTube
Miley Cyrus has packed a triple-whammy for fans today (Aug 18) — at midnight, the singer released the eponymous single, music video, and tracklist for her upcoming album Younger Now. The timing, set to line up and honor the 40-year-anniversary of Elvis' death, one of Miley's self-professed biggest inspirations.
The video features rhinestone jumpsuits that would have made the King proud, plus a colorful cast of young children and wisened adults. The groups alternately accompany Miley as she reflects on each period of her life, with small nods to her past selves. The final bit of choreography feels especially like a playful callback to Cyrus' song "Hoedown Throwdown" from Hannah Montana: The Movie. Even the video's aesthetic, while clearly a country vibe, seems like it was filmed in the same studio as "Hotline Bling" and features occasional flashes of sans-serif lyrics like the ones that populate Tumblr blogs. It's a perfect marriage in every way of contradictions.
Lines like the chorus' "Change is a thing you can count on / I feel so much younger now" make "Younger Now" feel at once both introspective and excited. Miley's certainly trying to do some sort of transformation, even if she's not necessarily in a hurry to get there. She's found, now, it's the old cliche of the journey, not the destination.
See the tracklist and music video below. Younger Now will be released on Sept. 29.
1. "Younger Now"
2. "Malibu"
3. "Rainbowland (feat. Dolly Parton)"
4. "Week Without You"
5. "Miss You So Much"
6. "I Would Die For You"
7. "Thinkin'"
8. "Bad Mood"
9. "Love Someone"
10. "She's Not Him"
11. "Inspireds"