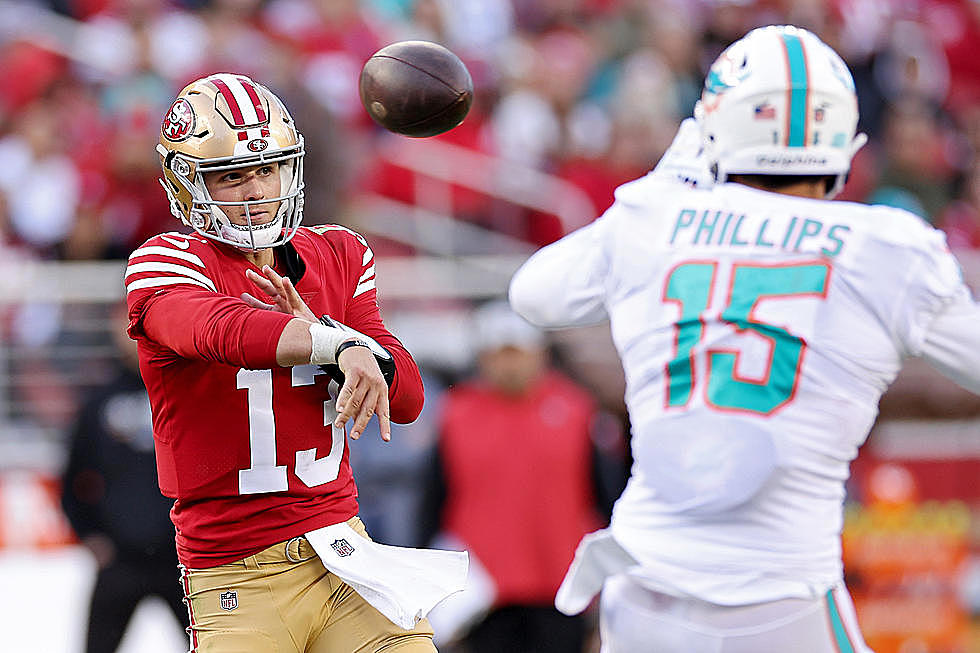 NFL Approves "Brock Purdy Rule" for 2023 Season
Photo Credit: Ezra Shaw, Getty Images
Last time we checked in with former Iowa State Cyclone Brock Purdy, he was mulling over sitting out the 2023 NFL season due to the elbow injury he sustained in the NFC Championship Game when the Purdy-led 49ers took on the Philadelphia Eagles. But there was more to that game than just Purdy's incredible season coming to a tragic end.
After Purdy went down with the elbow injury, his backup, veteran Josh Johnson, threw 20 passes before being knocked out of the game with a concussion. That left the San Francisco 49ers without a healthy quarterback on their roster (both Trey Lance and Jimmy Garoppolo were both injured during the regular season). As a result, the injured Purdy had to return to the game, but would only throw two more passes due to his severely injured elbow.
The 49ers would go on to lose 31-7 in somewhat unfair fashion because of this. NFL teams only have two quarterbacks in uniform for every game (a starter and a backup) because having three dress would take away a roster spot. However, in a rule change that is being colloquially referred to as the "Brock Purdy Rule," teams will no longer be docked a roster spot for doing that.
On Monday, May 22nd, 2023, the NFL approved a bylaw which will allow teams to activate a third quarterback without utilizing a game day roster spot. The disastrous rotten luck of the 49ers during the NFC Championship Game showed that, while extremely rare, this circumstance is possible. And it also led to a terribly uncompetitive, completely lackluster blowout in one of the three most important games of the year for the NFL.
So, say both a team's starter and backup both get hurt in the same game, there will at least be the option for the team to put a quarterback on the field without having to resort to an injured player or an "emergency quarterback" (IE: a running back under center).
While the outcome of the NFC Championship Game might've still been an Eagles win, at least San Francisco would've had the option to throw the ball. Not to mention, poor Purdy wouldn't have had to risk further injury to his elbow by going back out on the field to thanklessly hand the ball off to a running back.
At the conclusion of their season, 49ers head coach Kyle Shanahan and general manager John Lynch both expressed their desires for an emergency backup quarterback rule. They have to be elated with this news.
Meanwhile, Purdy continues his elbow rehab, and it's looking like either Trey Lance or Sam Darnold will be the starting quarterback for the San Francisco 49ers at this time.
Top 20 Surprising Facts You Didn't Know About Iowa
With all these interesting facts about Iowa, it's hard not to develop a newfound appreciation for the state. From their technological, medical, and environmental advancements, Iowa is leading the way in many fields and has a bright future.