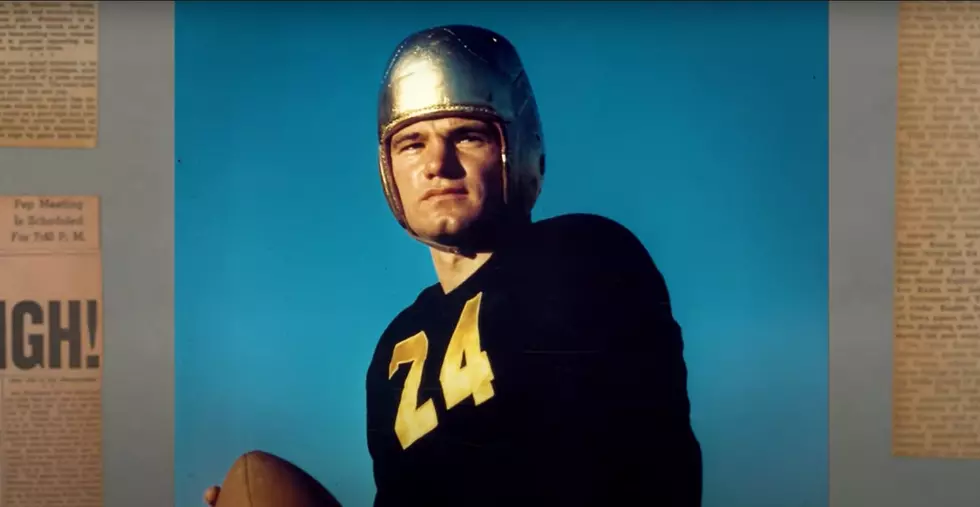 Iowa Hawkeye Legend the Subject of New Documentary
Photo Credit: Kinnick: The Documentary, YouTube
Back in August, a documentary about the singular biggest figure in Iowa sports history was screened in theaters. Now, just in time for the holidays, it's available to stream and to purchase, perhaps as a great gift for the sports fan in your life.
Nile Kinnick is the subject of Kinnick: The Documentary, a new feature-length documentary about the former Iowa Hawkeye halfback whose name is synonymous with Iowa athletics as a whole.
Nile Kinnick needs no introduction on the surface. An economics major during his time at the University of Iowa from 1937 to 1939, Kinnick went on to have a stellar career as a halfback for the Iowa Hawkeyes. Kinnick won the Heisman Trophy in 1939, along with two All-Big Ten awards his first and last year at Iowa. Kinnick would go on to be a naval aviator in World War II. Kinnick died after his aircraft experienced an oil leak, and he failed to emerge from his emergency landing in the water.
Kinnick died just a month and seven days away from his 25th birthday. His body was never recovered.
Such a legendary figure whose candle burned out long before his life could even be considered complete is exactly what documentaries are made of. Kinnick: The Documentary, directed by documentarians Paul DH Benedict and Christopher Cook, does its part to demystify the legend and turn him into a human being.
Kinnick went from a child of the Depression to Heisman hero to a pilot in World War II. His plethora of accomplishments despite his short time on Earth has led to him being lionized beyond the realm of a human being. Benedict and Cook's new film tries to peel back the mythmaking and give some context to the life of a boy from Adel, IA:
The story of a man becoming myth unfolds in cinematic detail in this feature documentary, revealing what pushed a young man from Adel, Iowa to reach ever higher and ascend to the realm of legend in the minds of sports fans across the nation. In addition to containing this breath-taking feature length documentary, the HD Blu-ray contains never-before-seen footage, deleted scenes from the film and special interviews with veteran naval pilots who served on the USS Lexington during World War 2 - the same aircraft carrier that Nile Kinnick served on - per the DVD's description.
Kinnick: The Documentary is now available to purchase in a DVD/Blu-Ray combo pack via Amazon. It is also available to rent for a few dollars on such streaming services as Amazon Prime Video and Apple TV+.
This looks like a must-see, or even a must-own for devout Hawkeye fans, or those with a love for the history of the state of Iowa. Read more about the film here!
Iowa Born Sports Stars
What do each of these stellar athletes have in common? They all hail from the Hawkeye State.
LOOK: Here are the 25 best places to live in Iowa
Stacker
compiled a list of the best places to live in Iowa using data from
Niche
. Niche ranks places to live based on a variety of factors including cost of living, schools, health care, recreation, and weather. Cities, suburbs, and towns were included. Listings and images are from
realtor.com
.
On the list, there's a robust mix of offerings from great schools and nightlife to high walkability and public parks. Some areas have enjoyed rapid growth thanks to new businesses moving to the area, while others offer glimpses into area history with well-preserved architecture and museums. Keep reading to see if your hometown made the list.