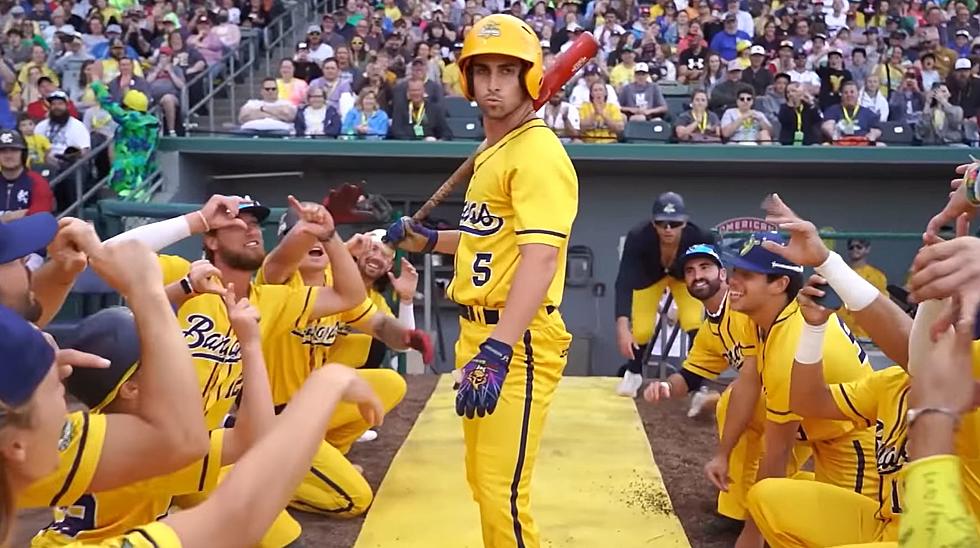 This Bright, Wacky Baseball Team is Coming to Iowa in August
Photo Credit: The Savannah Bananas, YouTube
They've been called everything from "the most fun baseball team ever" to "the best story in sports." Their meteoric rise is the stuff of movies, and their story is stranger than fiction. And it's only a few months before they travel to Iowa to bring their breed of fun to the Hawkeye State!
Meet the Savannah Bananas, an exhibition baseball team based in Savannah, GA. The easiest way to describe them is "the Harlem Globetrotters of baseball" (to quote sportswriter Joe Pompliano). Since their inception in 2016, they've garnered three league championships, limelight on ESPN and other national outlets, and have gone viral more than a handful of times thanks to their wacky on-field antics.
Baseball has been under fire recently for its declining viewership and attendance. The Bananas' owner Jesse Cole wanted to change that. So, he spent his life savings on building a team that would simultaneously respect the game yet bring a razzle-dazzle for families looking for a fun outing at the ballpark.
I highly encourage you to read Pompliano's Twitter thread about the Bananas' ascension from the humblest of humble beginnings to a nationwide powerhouse. It goes into detail about all that Cole and his wife Emily mortgaged (literally and figuratively) and sacrificed to make this team a success. You can see Jesse at every game, rocking a bright-yellow suit, riling up the crowd.
The Bananas have recently started their 2023 World Tour, and the good news for Iowans is our state is on their list! On August 25th and 26th, they will be at Des Moines' Principal Park taking on the Iowa Cubs!
If you're looking to go to one or both of the Bananas/Cubs matchups, you better hurry and get on the waitlist! Tickets aren't available quite yet, but when they are, they're sure to go fast, as the Bananas have already sold out a majority of their games this season.
What's different about Savannah's brand of "Banana Ball" compared to the regular rules of baseball? Wikipedia has done a nice job outlining some of the rule changes/modifications. Here are a few of them:
A two-hour time limit on games. If a team is leading on points at that time, they wins.
Foul balls caught by fans are counted as outs.
No bunting. A batter who attempts a bunt is ejected from the game.
Batters are not allowed to step out of the batters box; a violation is an automatic strike.
Batters are allowed to "steal" first base. Specifically, they can attempt to advance to first base in case of a wild pitch or passed ball at any time during the at-bat.
Walks are now called sprints. After the fourth ball, the batter is allowed to advance as far around the bases as he can. The ball must be sequentially thrown to all of the fielders apart from the pitcher, starting with the catcher; the ball remains dead, with the batter-runner not liable to be put out, until all fielders apart from the pitcher and catcher have touched the ball.
For more information on the Savannah Bananas, the team taking the baseball world by storm, visit their website. Check out their schedule for more information about their upcoming trip to Des Moines!
LOOK: MLB history from the year you were born
Stacker
compiled key moments from Major League Baseball's history over the past 100 years. Using a variety of sources from Major League Baseball (MLB) record books, the Baseball Hall of Fame, and audio and video from events, we've listed the iconic moments that shaped a sport and a nation. Read through to find out what happened in MLB history the year you were born.