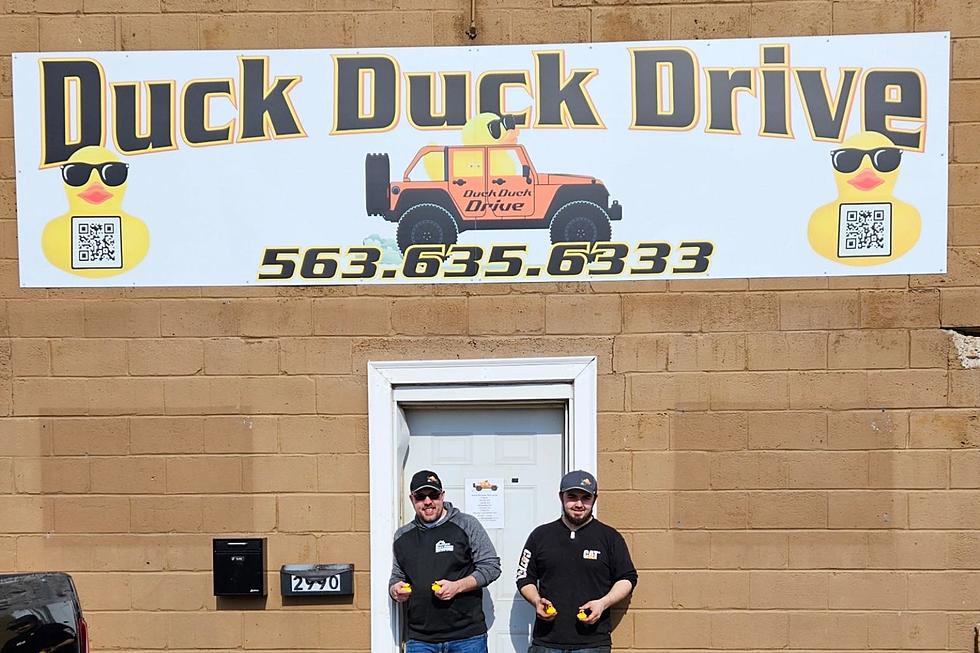 This New Dubuque Car Dealer "Ducks" All the Nonsense
Curtis Knapp and Joey Kenniker of Duck Duck Drive. Photo Credit: Duck Duck Drive
The world of car-buying is nonlinear and anxiety-inducing. Horror stories and bad reviews fill the internet. One man set out to change that, or at least do his part to assure that customers are able to trust and rely on a small business in town that looks to make the car-buying process easy, even enjoyable.
His name is Curtis Knapp and he is the proud owner and operator of Duck Duck Drive on Jackson Street in Dubuque. After nine years at EZ Auto Finance, Knapp thought it was time to open up his own used car dealer. Armed with a solid inventory of vehicles, an intent to leave customers smiling, and of course, a right-hand man in Joey Kenniker, his shop manager, Knapp is proving successful in a very short time.
In just a few months, Knapp has amassed almost two dozen five-star reviews on Google and knows in his heart he's left countless more satisfied. In a phone call I had with Knapp this week, he broke down what sets Duck Duck Drive apart from just any used car dealer in the area:
They're a small business that likes to have fun, and everything from the name to the décor around the shop/office reflects that.
Knapp prides himself on helping first-time buyers get into a ride they want as opposed to a ride they felt like they were sold.
Knapp has a personal commitment to getting people financed, regardless of bad, low, or middling credit.
Knapp added that his longtime friend and employee Kenniker once told him that he wanted to work for a shop that "he'd feel comfortable sending his daughter to." Knapp spoke with great pride that Duck Duck Drive is that very shop. It doesn't take much to see how successful they've been. From sterling reviews to photos of happy customers on their Facebook page, everything about their operation screams successful.
You'll notice that folks who ride away in a vehicle they purchased from Duck Duck Drive also get a complementary rubber duck, a tie-in to the unique branding of the business and something to keep that smile on their face.
Curtis Knapp knows that a dealership is nothing without happy customers, referrals, and good reviews. If the cars on his lot aren't necessarily the one(s) you had in mind, he will work diligently to get the vehicle of your dreams delivered to his shop.
The lengths at which he goes to make you happy lives up to a slogan he's coined for his shop as well: "Just Duck'n Drive!"
You can find out more about Duck Duck Drive on their official website, as well as their Facebook page. Duck Duck Drive is located at 2990 Jackson Street in Dubuque.
A Peek Inside a $1 Million Home in Platteville, WI
A mansion on Jewell Lane in Platteville, Wisconsin!